| | | |
| --- | --- | --- |
| | | A Favourite Sunday Morning Stroll |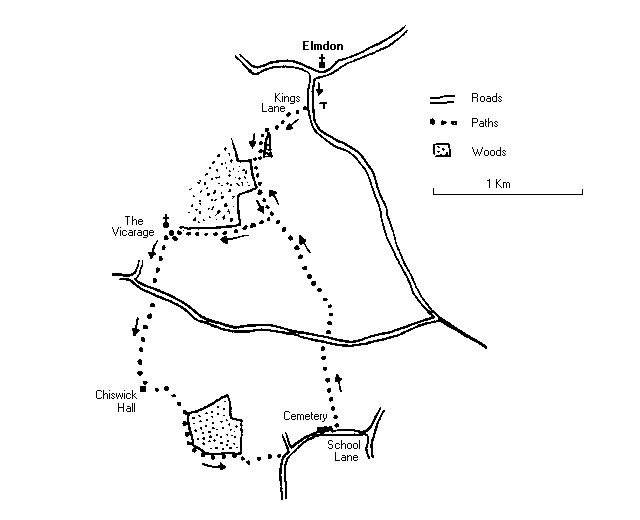 Not arduous; takes between an hour and a half to two hours; generally well made paths, but a bit churned up by horses in parts during winter. Lots to see.
Getting there Park near Elmdon Church [Elmdon is just south of Ickleton]
Map Explorer Map 194 GR for church 462397
Pub(s) The Red Cow, Chrishall


The Walk
Set off down the road towards Audley End/Saffron Walden, with your back to the Church, with telephone box shortly on left: turn right up King's Lane.
Pass delightful thatched cottages, and go through field gate at end, with recently restored cottage on left. Follow track for hundred yards or so, and bear left towards and then through a belt of trees, and between moats, and then turn left, with tree belt on left, and field on right. Follow track as it swings through right angle, and shortly afterwards, turn sharp left through gap in hedge.
Follow track, with wood and then field to the right. At long hedge**, turn right, and keep on track, turning left at fence of large vicarage, and follow round to front of church.
Turn sharp left down field towards intermittent hedge. Follow down hill to road, cross carefully and bear left, before almost immediately turning right up bridleway towards Chiswick Hall. Just short of restored farm buildings, turn left into new narrow path, and follow round to the right, with pony paddocks and tennis court on the right.
Turn sharp left down hill, over little bridge, and straight ahead to edge of wood. Follow the wood edge up hill, then sharp right on field edge, over bridge and sharp left along another field edge. Emerge onto road, turn left and almost immediately right along School Lane. Soon, on right thatched Hamlet Church, and then turn left down hill shortly after cemetry. Follow path in field, and then in avenue of trees to road, cross carefully, right turn and then almost immediately left across bridge and up field path.
This leads back to **, and retrace route back to Elmdon, turning right at T junction , and then down hill passed the moats etc to the King's Lane.
Neither the author nor his dog accept any responsibility for accuracy or for any injury or mishap that might befall any person who follows this walk. First published by "one man and his dog" in Great Shelford Village News August 2002