| | | |
| --- | --- | --- |
| | | A walk from Comberton |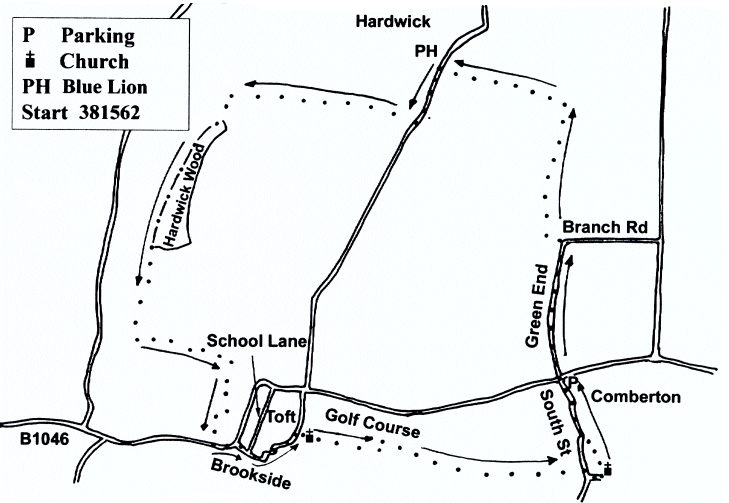 This walk was the basis of the Alzheimers Research UK fund raising walk in 2012. We are grateful to them for allowing us to use this route. If you use this route, perhaps you would like to make a donation to the Trust which is based in Great Shelford: Alzheimer's Research UK, The Stables, Station Road, Great Shelford, Cambridge CB22 5LR www.alzheimersresearchuk.org
Getting there
Go out on the A603 Sandy road, and after crossing the Ml1 take the right turn B1046 towards Barton/Comberton/Toft. Park in Comberton High Street, near crossroads, church to the left, Green End Road to the right (GR381562).
Map
Explorer Map 209

Pub(s) The Blue Lion, Hardwick
The Three Horseshoes, Comberton

The Walk
Generally on good paths and well signed. The walk will take about 3 or 4 hours: a rather longer walk than usual, but easily split in half by stopping at the Blue Lion pub in Hardwick.
From the parking place, walk northward from the crossroad up Green End Road, taking care of the traffic when the paths run out. Where the road swings to the right (into Branch Road), turn left on to public footpath.
After a kilometre there is a substantial track to the left: take this path if you are not bothered about the pub and meet up later with the rest of the route, otherwise carry on to the next left path, and shortly arrive at the Blue Lion. Turn left, and shortly see substantial track (for non-pub visitors) coming in from the left. At the end of the houses, turn right down another substantial track, and keep on this track for just over a kilometre, then turn left at path T- junction, heading towards Hardwick Woods. Keep woods on your left, and then fields, taking care to turn left and then right through gap in hedge, where tempting path swings right: ignore it.
Carry on down hill, and then turn sharp left, and head towards road, but turn right before reaching the road, following the field edge, to reach B1046. Turn left along the road, and very soon, where road turns sharp left, cross over and go right, along Brookside. Continue along Brookside, with former 'open fields' of medieval village to right and left, and reach church. Just beyond the church, turn sharp right along footpath signposted to Comberton.
Continue on this path with minor lefts and rights to cross the Cambridge Meridian Golf Club course taking care to listen for errant golf balls: you cross several fields, to reach South Street, just by Comberton church. You can then walk straight up South Street to reach the cross-roads where you parked, or turn right down South Street, then left into Church Lane to find footpath to left behind the church to join The Causeway which leads you back into South Street, and on to the cross-roads again.
Neither the author nor his dog accept any responsibility for accuracy or for any injury or mishap that might befall any person who follows this walk. First published by "one man and his dog" in Great Shelford Village News August 2012