| | | |
| --- | --- | --- |
| | | A Dry Walk in Wet Times - A circle around Great Chesterford and Ickleton |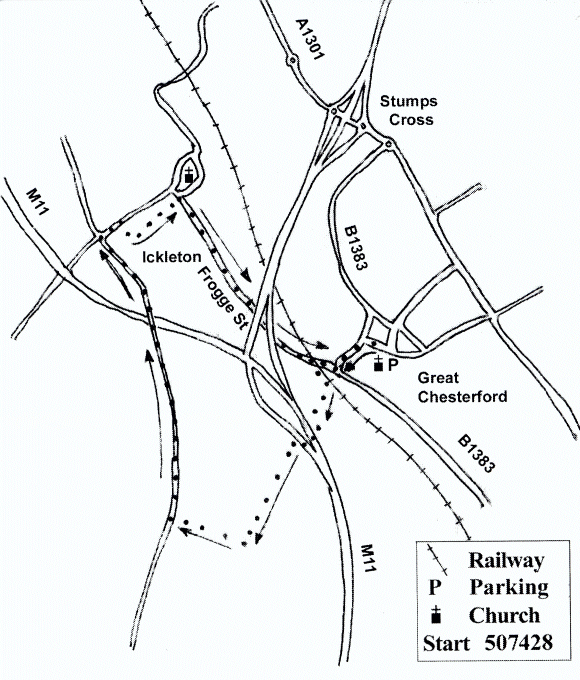 Getting there Take the A1301 from Great Shelford and then the B1383 from Stumps Cross down towards Great Chesterford, and turn off left into Church Street soon after the inn. Pass church on your right. Public transport is good; train to Great Chesterford on the Liverpool Street line, and some number 7 buses pass through.
Parking
At GR 507428 Explorer Map 209 on road just beyond the church, near phone box and open ground leading down to river.
Map Explorer Map 209


Pub(s) The Plough, Great Chesterford
The Ickleton Lion, Ickleton


The Walk
The walk About 4 miles long, well marked and generally pretty dry. Considerable length on cul de sac road with little traffic, or footway along minor road. Good views over South Cambridgeshire ... and the Ml 1. From church retrace steps to the B1383, and turn left down the pavement, taking time to peer into front gardens of houses on the left before the turn to the converted mill to spot Second World War Spigot gun foundations (there is one in Great Shelford too, just by the furniture store, and one on the opposite side of the road at the entrance to no 19). Cross the main road, and almost immediately bear right down road towards Ickleton. Cross this road and walk up to cross the railway line at the level crossing: do not attempt to walk through the tunnel!
Immediately after crossing the railway line, turn sharp left down cinder track, and after the houses turn right along good track, and then bear left up the embankment to cross the Mil on footbridge. Follow the path round to right and then left, up path between tall hedges/bushes. After about half a mile turn sharp right and walk uphill towards road: at the road turn right and walk downhill, towards Ickleton, keeping an eye open for the few cars using this very minor road. Pass small nature reserve on the left, and at main road junction turn right, and look out for Back Lane on your right. Go along Back Lane until you reach the Ickleton Rec, and turn left on the Rec to pass the Village Hall, and reach the road. (Quick trip into the church opposite well rewarded.)
Turn right along Frogge Street, using footway where it exists, passing succession of ancient houses with telling names, like Providence House and Perseverance Cottage (it took them ages to get planning permission for conversion!), and pass Riverside Cafe (personally untested, but informants positive) to reach the railway line approaches. Again, walk up to the crossing, and descend to B1383, cross and turn left up pavement to find Spigot gun emplacement, if you missed it first time, and then turn right along Church Street and find your car.
Neither the author nor his dog accept any responsibility for accuracy or for any injury or mishap that might befall any person who follows this walk. First published by "one man and his dog" in Great Shelford Village News April 2012