| | | |
| --- | --- | --- |
| | | Woods and Weirs at Kirtling Green |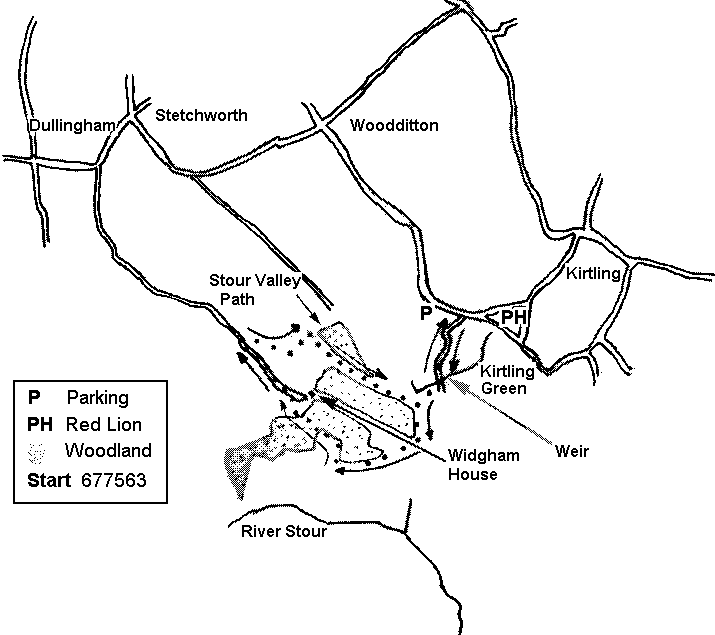 Getting there Take the A11 from Fourwentways towards Newmarket, and turn off to Six Mile Bottom and Newmarket along the A1304. Turn right to Dullingham after about 3 miles, through Dullingham, across the B1061, and into Stetchworth. Turn right at T junction in Stetchworth, follow road through Wood Ditton, then turn right at cross roads to Kirtling Green. After about two miles, turn right into cul-de-sac (tarmac road).
Map Explorer Map 210 GR677563

Pub(s) The Three Blackbirds, Woodditton

Parking On verge in cul-de-sac or further down towards the end of the road if single vehicle. Park avoiding gates etc.

The Walk is about 4/5 miles long, well marked and generally pretty dry. Autumn time best, with oaks turning very late in the season
Walk down to the weirs [part of very clever system for taking excess water from Denver Sluice down into Suffolk and Essex], over bridge and turn right, along side the stream/waterway. Walk down to second footpath on the right, turn right and follow path to woodland edge, turn left and follow wood edge round to cross small bridge. Turn right, and follow wood edge round to stile into the woodland.
Soon wood on right gives way to paddocks, turn right at waymark to walk between paddock fences, and emerge onto road at entrance to Widgham House. Walk on down road to left passing farm buildings , and in 1 km turn sharp right back through thicket, as it twists and turns, turn left at end of thicket to emerge along side ditch, and head to wood edge. Turn right onto Stour Valley Path, and follow this path back to the weirs. Cross weir at bridge, and turn left to retrace steps to car.
Back onto the road, turn right and shortly arrive at junction in Kirtling Green: turn left to find the Red Lion, Kirtling Green [shut on Monday and Tuesday lunchtime Tel :01638 731976].
Neither the author nor his dog accept any responsibility for accuracy or for any injury or mishap that might befall any person who follows this walk. First published by "one man and his dog" in Great Shelford Village News February 2012