| | | |
| --- | --- | --- |
| | | Oakington, Girton and the Guided Bus |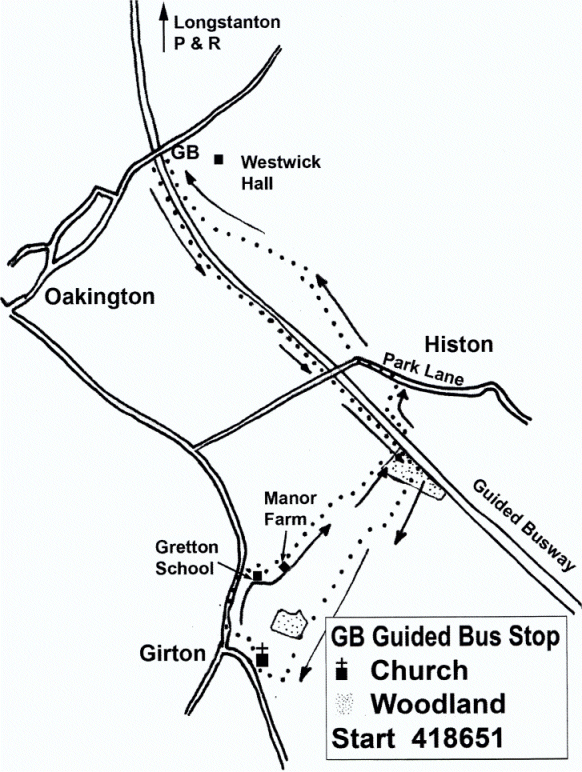 Getting there Take A14 westbound, turn off at Bar Hill toward Willingham, and go to the Guided Bus Park and Ride NW of Longstanton: do not follow signs to Longstanton! Park in Park and Ride Car Park [very little parking at Oakington/Westwick bus stop]
If you have time, then you may prefer to take the Guided Bus [GB] from Trumpington Park & Ride to Oakington rather than using your car.
Map Explorer 225


Pub(s) The George Inn, Girton

The Walk Generally very good underfoot. Signage pretty good, and walk will take 2 or 3 hours.
Walking alongside the GB not to everybody's taste, and beware cycles coming up behind you, particularly if you have a dog.
Having parked at the &PR, take the GB one stop towards Cambridge [use your pass, if of a certain age] and get off at Oakington/Westwick;cross the tracks, and turn left walking towards Histon on the GB service road/footpath [tarmac]. Walk to road level crossing , and keep going alongside the GB; a footpath crosses the track, but keep going till a path on the right through a clearing in the trees, with an information board . Follow the permissive path through the trees to reach a field, with a diagonal path passing to the right of a tree stump. Follow this path into and through woodland, emerging into a field through a metal kissing gate.
Follow down this path under power lines to arrive at another new wood. Turn left into sports field, and keep to hedge on your right, following the dog walkers route, and eventually reach a cinder track, which leads you round the back of sports fields and pavilions, heading towards Girton Church. Good Green with benches for a sit down and break, then head north westward away from the church, to reach road junction, and turn right. Pass two pubs, and soon reach Gretton School, and turn right along Manor Farm Road, turn right behind the school, then left and right and left again to emerge on to a good track heading north-eastward to reach the GB track again.
Cross the GB track and head straight up St.Audrey's Close as it bends through post-war housing and sheltered housing to reach a more major road [Park Lane]. Turn left, and soon reach a sharp bend to the left, where you turn right on to a splendid farm track which you then follow across fields and dykes to reach the road near Westwick Hall, having crossed some very visible ridge and furrow.
At the road turn left, and at the GB track turn left to the bus stop, and get bus back to Longstanton.
Neither the author nor his dog accept any responsibility for accuracy or for any injury or mishap that might befall any person who follows this walk. First published by "one man and his dog" in Great Shelford Village News December 2011