| | | |
| --- | --- | --- |
| | | A short but charming walk from Stetchworth |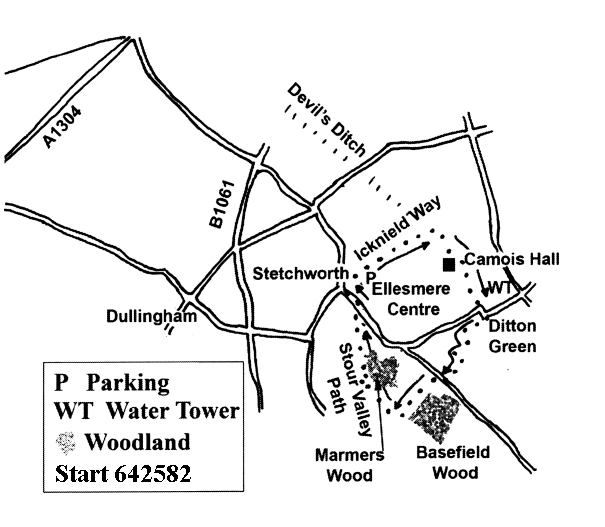 Most of the walk is pretty dry [we hope!] Do keep dogs on a close lead: horses everywhere, at the right time of year.
Getting there take the A11 from Fourwentways towards Newmarket, and turn off to Six Mile Bottom and Newmarket along the A1304. Turn right to Dullingham after about 3 miles, through Dullingham, across the B1061, and into Stetchworth. Turn right at T junction in Stetchworth, and after 600 yards or so turn left, the Ellesmere Centre. Park in Sports Centre Car Park.
Map [GRTL642582] Explorer Map 210

Pub(s)
The Three Blackbirds, Woodditton
The Red Lion, Kirtling

The Walk is about 5 miles long

From the Ellesmere Centre walk back to the junction, and opposite the Marquis of Granby, turn right down a footpath, labelled Icknield Way, cross a small road running through an estate of houses, to soon start walking down hill with open land to the right and woodland to the left. At the bottom of the hill, climb up over the Devil's Dyke, go almost straight ahead, along a headland dividing a field. [To left, view of Ely Cathedral possible as you cross this field]
At the far side of the field, climb up on to a track and head right, with view of lovely avenue of trees ahead. Just before the avenue, bear left round barns, and head on up hill to water tower. Go straight ahead on the road for about fifty yards, and where road turns sharp left, go straight ahead, but almost immediately turn sharp right. Follow well waymarked path, soon turning left, then right by side of wood, left and then right again by another wood, to reach minor road. Turn right, and after about 200 yards turn left at substantial fingerpost to head off towards wood edge, with horse paddocks to left and garden to right. Go forward with wood to left, and then reach T junction, with path to right and left. Turn right on to the Stour Valley Path, and go through narrow track lined by trees and shrubs. At the end of this length, the path turns right, and quickly left to cross a field, with the Ellesmere Centre now in sight Down into a dip, cross a path, and over a stile into a paddock, up the hill, over stile into s a grass track with fence to either side. Follow up to the road, and on emerging, turn left, and soon find the Ellesmere Centre on the right.
Neither the author nor his dog accept any responsibility for accuracy or for any injury or mishap that might befall any person who follows this walk. First published by "one man and his dog" in Great Shelford Village News June 2011