| | | |
| --- | --- | --- |
| | | Weston Green Circular Walk |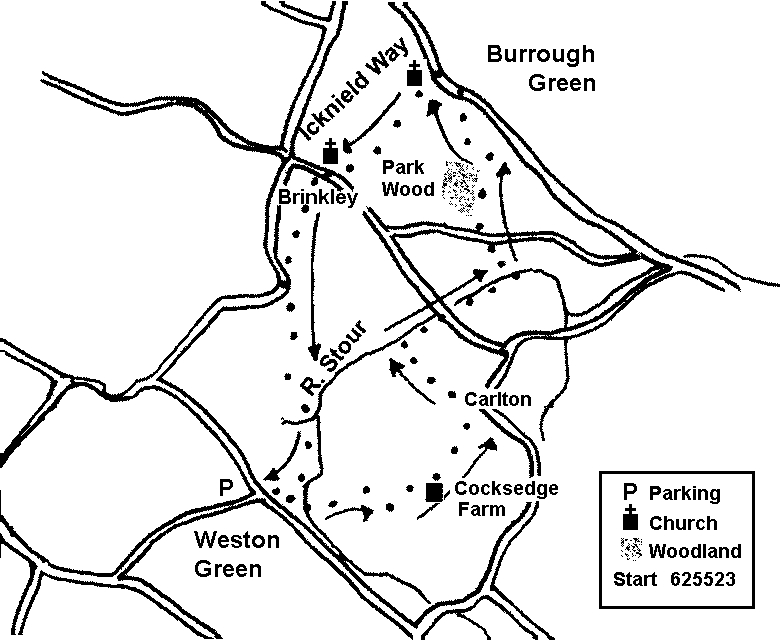 Getting there Drive towards Linton, then left through Hildersham to Balsham, and take the B1052 to West Wratting. In West Wratting, turn right towards Haverhill and then left at the end of the village towards Weston Green. At T-junction there is a small car park opposite the village hall, otherwise use roadside.
Map Explorer 210 Haverhill and Newmarket. GR 625523

The Walk
It takes 2½ to 3 hours and is about 10km (6 miles), with mainly tracks and field-edge paths.
From the parking place, walk south-eastward with playing field on left, then turn left down road, and almost immediately turn right down track, and at path T junction bear left up hill. Sharp right hand bend in track, then sharp left hand bend, and in comer of field take track to right towards farm buildings, emerge into farm yard, and bear left through buildings to emerge onto substantial track. On reaching edge of village of Carlton, turn left downhill on track to reach bridge at bottom. Turn right along a permissive footpath by the the river bank with river on your left, over road, and continue on river bank, to reach path coming downhill from the right. Cross left over the river, bear left and then sharp right to reach road. Over the road, and bear left over stream to reach wood edge, and continue up hill with wood on left. At top of wood bear left and through gap in hedge, and turn left along farm track, which then swings right before reaching road.
Turn left and come into Burrough Green, and at far end of the cricket pitch turn left past the 'sheltered bungalows' of Sheriffs Court, and at fork in paths bear right along Icknield Way, to hit hedgerow on the opposite side of the field. Follow path, bearing right to reach Brinkley, turn right along the road, and then turn left down road with open space on left, still on Icknield Way.
Keep going on path with paddocks on either side, and emerge through fence and hedge onto road. Turn left, but NOT sharp left along road, and very soon dive left along narrow path round garden to emerge on to substantial track. Turn left and keep going on this track, ignoring temptation to take good paths to left and right, and then turn sharp right having crossed incipient River Stour. Continue down this substantial track, with cherry trees, and a good crop in season. Drop down into village to hit the road back into Weston Green, and at cricket field turn right to head towards road, turn right at road to reach starting point.
Neither the author nor his dog accept any responsibility for accuracy or for any injury or mishap that might befall any person who follows this walk. First published by "one man and his dog" in Great Shelford Village News February 2011