| | | |
| --- | --- | --- |
| | | A circular walk from Hauxton - taking in Harston and good countryside too |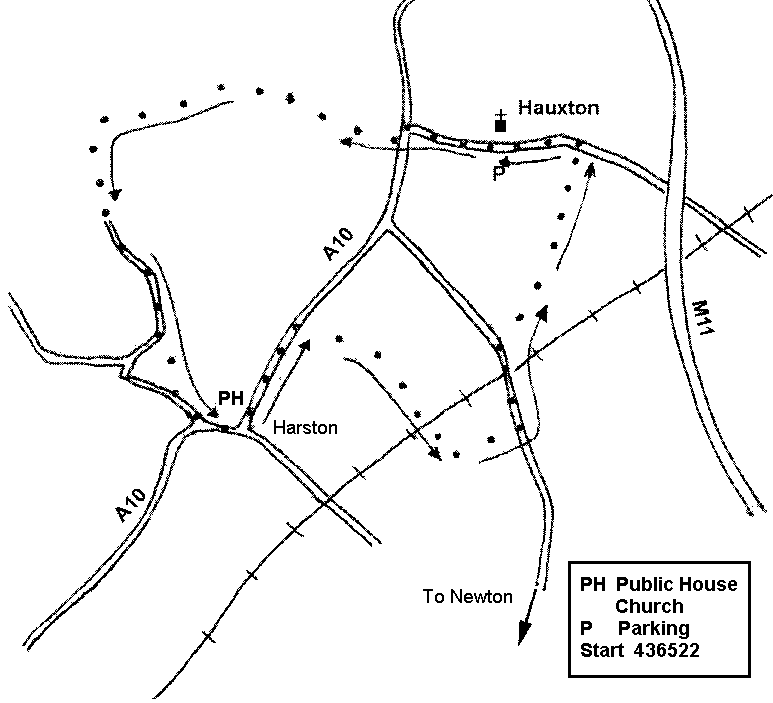 Getting there
Take the road from the Shelfords out to Hauxton Church, map reference 436522. Park carefully outside the church.

Pub(s) The Queens Head, Harston
The Pemberton Arms, Harston

The Walk
About 5 or 6 miles, and will take about 2½hours. Good under foot and generally well signed.
From the church (worth a visit if open) walk north-westwards to reach the A10. Turn left, and cross the A10, and within 100 yards turn right at the finger post pointing to Haslingfield. Walk up this farm track for a short mile (with a lovely view of Haslingfield Church to the front) until you reach a metalled track to the right: turn left here, and walk down the grassy track to reach superfluous 50mph road signs at the start of a pot-holed village road with houses on either side. After less than half a mile, reach a finger post indicating a footpath to the left, with posts on either side as it crosses a field, then across a track with a stable to the right, through metal gates, passing houses on the left, to reach the road.
At the road tum left' and left again at the A10, passing the pub/restaurant called the Three Horseshoes (for how long?) cross the road at the lights, and continue towards Cambridge. Pass the Buckingham and Stanley (SAAB) garage on the opposite side of the road, and soon turn right down a finger-posted track, pointing to Newton. Go down this nicely wooded path to reach the railway: cross very carefully to rejoin the track on the other side. Soon reach a substantial break in the hedge, and take the mid-field track to left to reach the Harston/Newton Road- turn left pass end of the road to Little Shelford. and walk up carefully over the railway bridge. Very soon reach a substantial lane to the right, and walk down this lane into Hauxton turn left on reaching the Little Shelford/Hauxton Road at Mr Arnold's old shop, and walk along to the church, and hopefully your car/bike.
Neither the author nor his dog accept any responsibility for accuracy or for any injury or mishap that might befall any person who follows this walk. First published by "one man and his dog" in Great Shelford Village News December 2010