| | | |
| --- | --- | --- |
| | | A circular walk from Sawston to Whittlesford, for war memorials and good countryside too |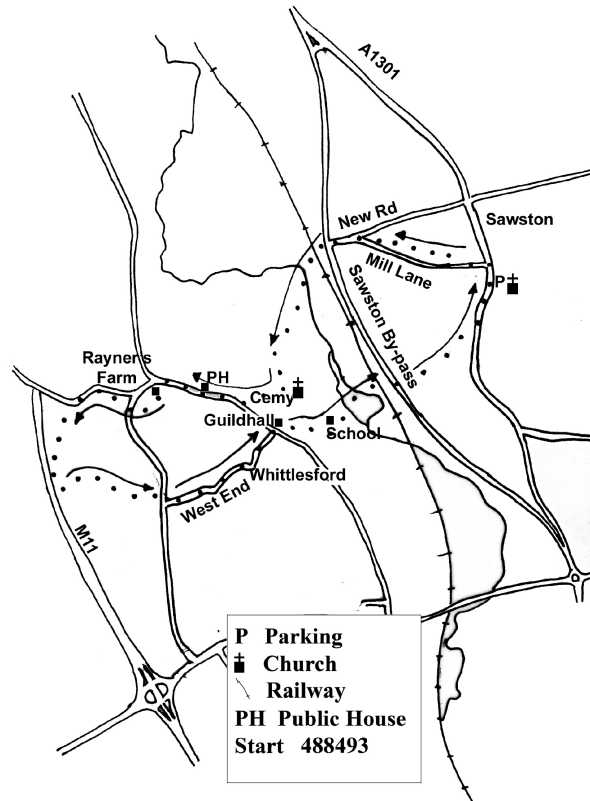 Getting there Take the A1301 and then road into and through Sawston. Park carefully at the far end of Sawston, near the Church and Sawston Hall.
Pub(s) The Kings Head, Sawston
The Tickell, Whittlesford
The Bees in the Wall, Whittlesford


The Walk is about 6 miles, and will take about 2 ½ / 3 hours. Good under foot and generally well signed.

At the junction of Church Lane and the High Street stands the Sawston village War Memorial, with the usual ratio of deaths between the two World Wars, with nearly 4 times as many deaths in the First War as the Second. One special feature of this War Memorial is the commemoration of a death in the Korean War of the late 1940s /early 1950s.
From this memorial, walk north up the High Street, and soon turn left along Mill Lane, and turn right up the path to the old school building, and then turn left along a path passing the school, and then the back of houses and gardens, to emerge on to Mill Lane again, at its junction with New Road.
Proceed left to and cross first Sawston By-pass and then the level crossing. Immediately turn left along a signed footpath leading to Whittlesford, bearing right to cross a couple of footbridges. This well founded path leads directly to the church, and in the graveyard you will find a collection of at least a dozen Commonwealth War Graves Commission Portland stone graves, mainly those of young men who died whilst training at RAF Duxford, but also those killed in action during the Second World War.
The names and nationalities recorded remind you of what an international effort the Second World War was, with people not only from across the then British Empire, but also from central Europe.
Here you can quickly cut down along Church Lane to The Guildhall and the Whittlesford village war memorial, OR you can bear right down a good path from the cemetery, and turn right along the road to pass The Bees in the Wall inn, and shortly before reaching a junction, take a footpath over a stile at the side of Rayners Farm. Walk along this path, bearing right as tempting paths appear to the left, and emerge onto a road. Turn right briefly, and then take path across footbridge, and pass allotments and then the backs of houses, to emerge on to another road, where you turn left.
Shortly, near a bench, turn left at fp sign, drop down a few yards, and then bear right along a path between scrubby woodland to the left and garden to the right. You now stick to this path through thicket and thin, getting very close the M11 before turning sharp left away from the motorway, and bearing left and then right round the end of a grass aircraft landing strip, complete with wind sock. [ This is a bit over grown, but we are working on it!] Dive right into the woodland, and eventually emerge on path adjacent to drive way to another road. Turn right, cross the road, and turn left into West End, which eventually leads through to the Guildhall, and the War Memorial.
From the memorial bear right, and then diagonally across the Lawn, the village green, to meet Mill Lane. Turn left along Mill Lane, passing the school and the feed processors on the left and the Hamilton Kerr Institute on the right. Drop down a narrow lane to the right in front of a cottage to reach a paved footpath which then takes you over first the railway and then the By pass. Take the footpath in front of you on the opposite side of the road, and where the path forks, take the left hand fork to arrive at main road. Turn left, and very shortly you will be back in the part of Sawston where you parked
Neither the author nor his dog accept any responsibility for accuracy or for any injury or mishap that might befall any person who follows this walk. First published by "one man and his dog" in Great Shelford Village News October 2010