| | | |
| --- | --- | --- |
| | | A walk from Wimpole, through Arrington and almost to Hailey Wood |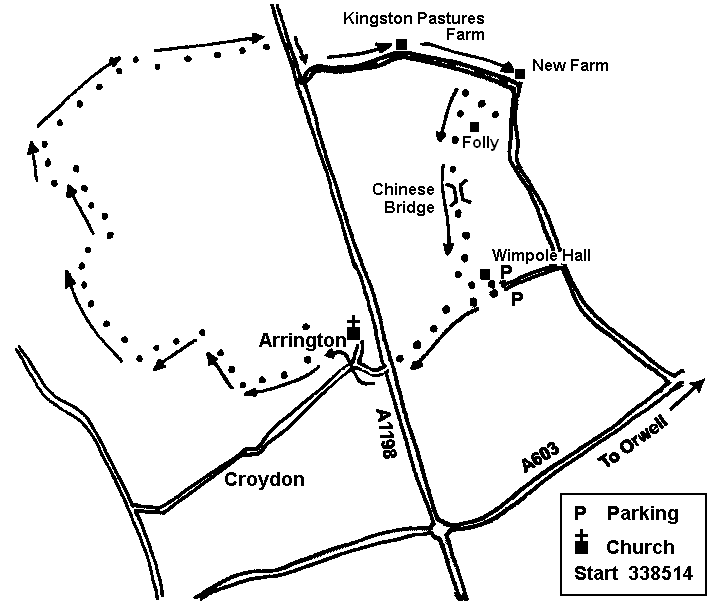 About 6/7 miles, and walkable in about 3 hours
Getting there
Take the A603 out of Cambridge, and follow the National Trust sign to Wimpole Hall and Home Farm. Turn right for Wimpole soon after Orwell. Park in NT Car Park [Pay and Display for non-members]
Map
Explorer map 209 GR338514


Pub(s) The Queen Adelaide, Croydon

The Walk
A local, easy to find walk, with good views . Solid under foot most of the way, though part of the way through the Wimpole grounds can be a bit boggy.
From the car park walk westward passing the stable block to cross the parkland on tarmac road, using cattle grids/gates. Reach A1198 to side of imposing gates, cross road, and turn left, before soon turning right towards Croydon. On reaching church, turn right, and keep look out for metal kissing gate up steps from small car park. Through kissing gate, and cross grassland to edge of woodland ahead, through hedge, and continue along track to reach edge of farm with grain silos. Turn left, with hedge on right, and soon reach tarmac road, and turn right [sign warns you to beware Free-Range Children]. Head on across large farm yard and hit road emerging on the far side.
Keep this track for some 3 kms, as it twists and turns across a plateau, eventually reaching a spinney on either side of the road, turn right into the spinney to find way-marked path through the middle of the spinney. At the end of the spinney turn right, and then left to reach the A1198. Turn right and walk along broad verge to soon reach generally quiet lane to the left signed to Wimpole. Keep on this lane , passing Kingston Pastures Farm and New Farm, before following road round sharp right turn.
Soon reach belt of trees to the right, turn right to enter through gate, and after about 500m take path to left through trees to reach path leading down by stream , with follies up to the left. Follow down here, and after a gate swing left to cross Chinese bridge, then up hill heading half-left, through gate on bridge over ha-ha [ditch], over shoulder of the hill, and drop down to gate at edge of formal gardens, Turn left in front of Wimpole Hall, to find refreshments and the car park.
[ with thanks to Jack for introducing One Man and his Dog to parts of this walk]
Neither the author nor his dog accept any responsibility for accuracy or for any injury or mishap that might befall any person who follows this walk. First published by "one man and his dog" in Great Shelford Village News August 2010