| | | |
| --- | --- | --- |
| | | A good round from Littlebury Green |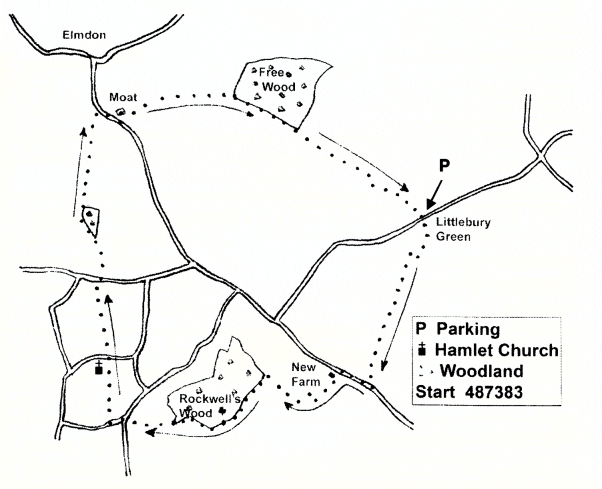 A walk for late April and early May in particular (about 5/6 miles) Bluebells in several woods.
Getting there Take the road down towards Saffron Walden, and then the B1383 (old A11) towards Newport, and turn right to Littlebury Green, pass and notice "tin tabernacle" on left, and park by phone box on left.
Map Explorer 194 GR 487383


Pub(s) The Queens Head, Littlebury

The Walk

Generally good underfoot. Signage good too
Just east of phone box, turn south by (ugly) concrete fingerpost, and bear right down track to right of houses. Soon reach T junction, and turn right, and then almost immediately left down hill, with hedge on right, and good views all around.
At road, turn right, and after 300 yards turn left into farmyard at another finger post; go through farmyard, and soon swing right , left, right towards wood. At wood edge turn sharp left and walk on with Rockell's Wood on right with bluebells. Follow wood round to reach cross-paths, and go straight ahead between tapes sectioning off pony paddocks to reach track. Turn right and soon emerge to cross-roads. Go straight ahead, and soon pass thatched cottage to right: Almost immediately turn right, to right of gates labelled PRIVATE to find narrow path which leads out on to open field. Go forward to road, with the thatched Hamlet Church to the left (worth a detour, and good seats in churchyard). Go across road, and head down hill, with good view of Elmdon/Littlebury ridge in front. Through avenue of trees to reach road.
Turn right, cross road to find path over bridge, and head up hill, and at end of thicket on the right, turn right, over stile, and head up between wooden fences of stud paddocks. Emerge on to road (Elmdon Dial pub off to left), turn right, pass moated house on left, and soon turn left down farm road. Reach farm with Jersey cattle, and pass straight on with bluebell wood and then hedge (good for blackberries in season) on the left. Quick shimmy to right and then left brings you into a lane which leads up to the phone box and your car.
Neither the author nor his dog accept any responsibility for accuracy or for any injury or mishap that might befall any person who follows this walk. First published by "one man and his dog" in Great Shelford Village News April 2010