| | | |
| --- | --- | --- |
| | | A War Memorials Walk |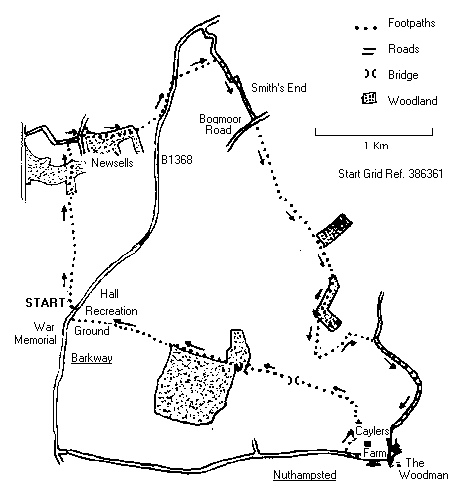 This walk can be shortened from the 7 or so miles described here: follow it out on Explorer Map 194-dotted green lines are public footpaths/bridleways, and in this area generally quite well signed. It will take 3 ½ hours walking, but there is a very good pub, so it may take longer. Some cross field paths, so it could be a bit muddy, and some sections a bit isolated, so, if of a nervous disposition, go with a friend/take a mobile.
Park in car park opposite Barkway Village Hall, just north of the village on the B1368, from Flint Cross on the A505 to Puckeridge on the A10.
Pub(s) The Woodman Inn, Nuthampstead


The Walk
From the car park walk towards the village on the Village Hall side of the road.
Almost immediately turn right at footpath sign post, and soon follow path round to the right. Walk on, straight ahead at footpath junction, and down the hill with parkland of Newsells on the right, stud paddocks to the left. Go through gate, cross road and turn left almost immediately through another gate. Follow the track through the wood, and at the top of small rise, turn right, through a gate, and down between wooden fences. At the road, turn right.
Shortly, at a junction a War Memorial to the men of Newsells who fell in the First World War faces you. Go up behind the Memorial, and follow the narrow track through the woods [the broad track to your left is not a Right of Way].
At the bottom of the slope, over stile and across stud paddock: if not keen on horses/with dog, follow railings round on permissive path to stile opposite. Through tree belt and hedge to road. Turn left and walk on tussocky verge and then turn right over small bridge onto cross field path, which farmer usually re-instates and marks well after ploughing. Path emerges onto road after short left fork, turn right along the road, round various blind corners, and through the hamlet of Smith's End.
At junction, cross road and through gap in hedge to emerge on to good path, cross junction at top of rise, straight ahead with hedge on left, straight on at next junction and through edge of wood. Shortly after leaving this wood, bear right along path which enters the corner of a wood, to twist and turn through the wood, startling deer, ducks, pheasants and you.
As you emerge, bear left across the field, and at concrete road, turn left. On reaching minor tarmac road, turn right, and walk towards Nuthamstead. Ignore first left in village, but bear left at second junction, [signs to The Woodman ] and shortly afterward, enter grounds of The Woodman . Excellent stop, with well cared for Memorial to US Air Force personnel based there in the Second World War: inside the pub interesting display of memorabilia.
Retrace steps to junction, and turn left Shortly after Caylers Farm, trun right at green sign, bear to right of copse, turn left through hedge, and immediately right on emerging. Almost immediately turn left, with ditch on left and go straight on to bridge over ditch at bottom of slope, cross bridge, up slope with fence to the right, over stile, follow white topped stakes through newly planted woodland, over stile out onto path, straight on down slope, over bridge, up slope with wood first on right and then on left [good for bluebells in season]
At end of wood, keep straight on between two fences, and at end bear right, and then left through hedge. Keep close to house hedge, and soon find path with field to left. Cross bridge, bear left through scrubland, and emerge onto Recreation Ground, left round the football pitch, and then left into narrow path. This emerges into Barkway at their War Memorial. Turn right, and car park is soon on the right.
Neither the author nor his dog accept any responsibility for accuracy or for any injury or mishap that might befall any person who follows this walk. First published by "one man and his dog" in Great Shelford Village News October 2002