| | | |
| --- | --- | --- |
| | | Fen Drayton Lakes |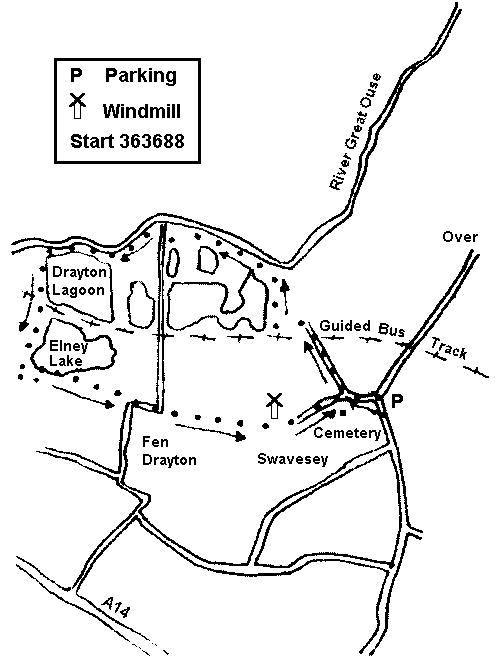 A walk through a recently created RSPB reserve, following sand and gravel extraction. A chance too to see what is happening with the guided bus.
There are many variants to this walk: RSPB have an excellent leaflet with guide map. Call 01954 233260 to get a copy. Visit http://www.rspb.org.uk/reserves/guide/f/fendraytonlakes for more information.
Getting there Take A14 westbound, turn off towards Swavesey at The Trinity Foot. Park in centre of Swavesey 363688
Map Explorer 225

The Walk
Generally good underfoot. Signage pretty good, and walk will take from 2½ to 3 hours.
Walk west out of market square, and turn right (northward) towards Over, then turn left into Taylors Lane, and follow this road round to the right, to reach cemetery on left. Go straight ahead on the drove in front of you, with other track going to the left (coming back that way).
Walk on to reach guided bus track, cross and bear round to left, to reach sign posts at bridge. Turn right through gate, signed Great River Ouse, and head off to reach river. Turn left at river, to reach road, turn right briefly, then left again to continue along the river (ferry may be operating to pub across the river at Holywell in summer).
Press on to end of Drayton lagoon on left, and turn left, away from the river, re- cross the guided bus route, and at end of Einey Lake turn left. Continue on this path to reach road: do not turn right towards Fen Drayton, or left between lakes, but keep straight on, and ignore more substantial track leading to car park in centre of reserve.
Where road turns right, follow right to reach cross track, turn left to walk towards obvious mill. Keep on this track to reach cemetery, turn right, and follow through to reach the centre of Swavesey.
Neither the author nor his dog accept any responsibility for accuracy or for any injury or mishap that might befall any person who follows this walk. First published by "one man and his dog" in Great Shelford Village News December 2009