A North Herts Circular -
Gt Hormead, Hare Street, Layston, Wyddial, Anstey and back to Great Hormead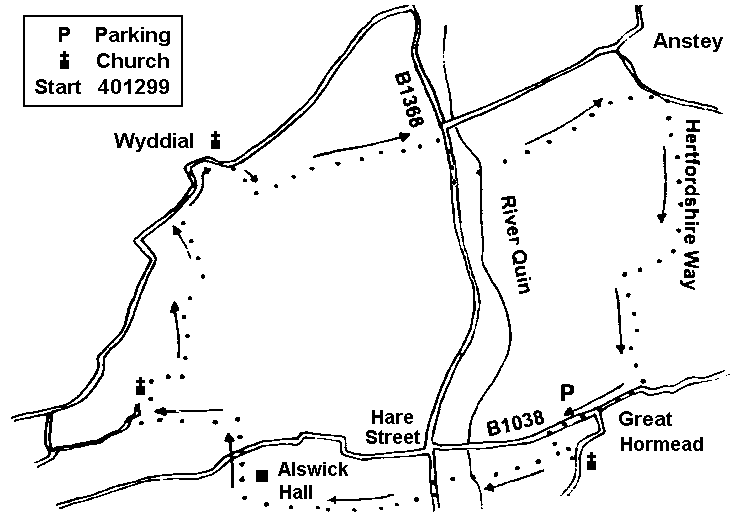 Getting there Take the B1368 out through Fowlmere, Barley and Barkway. Take left turn in Hare Street [B1038], into Gt Hormead, to park behind village hall, just after the school on the left.
The Walk Good variety, with ancient settlements, substantial country houses, and extensive views. Few cross field paths; good underfoot; well signed: Time required is about 3½ hours (a bit more than usual)
Walk from car park back towards the school, and opposite the school turn left up tree lined drive, under the arch. At top, turn left and then right to visit church if you wish, otherwise turn right over stile, through parkland and down hill to reach recreation ground over bridge. Bear slightly right to cross rec, then head up hill to reach the road. Turn left, cross the road, and then turn right up footpath soon after tea room. Go on up this track, following round to right with wood on right, then do not follow main track through new plantation but head down hill with plantation and garden on right. At hollow way, turn right to pass Alswick Hall on right and soon reach road.
Cross road onto good track, and soon reach T junction, turn left with view of church: keeping going on this track as it heads up hill towards church. At road turn right and reach church, which is abandoned, even if churchyard is not. [This was Layston village, hit by plague, and settlement abandoned in favour of Buntingford down in the valley]
Retracing from the church, turn left [or right if you did not go up to the church!] to hit track which twists left and then right. Where two posts in path turn left on far side of hedge, and follow this track round right to reach outskirts of pony farm. Turn left again to pass by the pony farm, and reach road in Wyddial. Turn right, and walk along remarkable old street, with ancient houses on either side. Pass church, and after Wyddial Grange turn right through metal gate, and immediately left with ditch and hedge to left. At bridge turn left, and keep going on this track for good distance, with only slight jink right and left, eventually reaching B1368.
Turn right, walk along verge, and soon see finger post on left signing Anstey 1 mile. Walk down to River Quin, cross bridge and up good track to barns and cottages; cross road and head up hill on hard-core track, swing right approaching a wood and then left through hedge. On up the hill, and then swing right to walk southward along the Hertfordshire Way.
Hardcore gives way to grass track, over a wooden bridge, cross field to reach narrow road , turn right, and walk carefully down hill, and after two bends or so, finger post to left brings you onto good grass track. On approaching farm buildings, path dives right over stile, cross field and another stile to go down hill and emerge onto tarmac road. Turn right down hill, and at main road, turn right, passing several very lovely old houses to reach the village hall
Neither the author nor his dog accept any responsibility for accuracy or for any injury or mishap that might befall any person who follows this walk. First published by "one man and his dog" in Great Shelford Village News October 2009