| | | |
| --- | --- | --- |
| | | All the camps in a morning |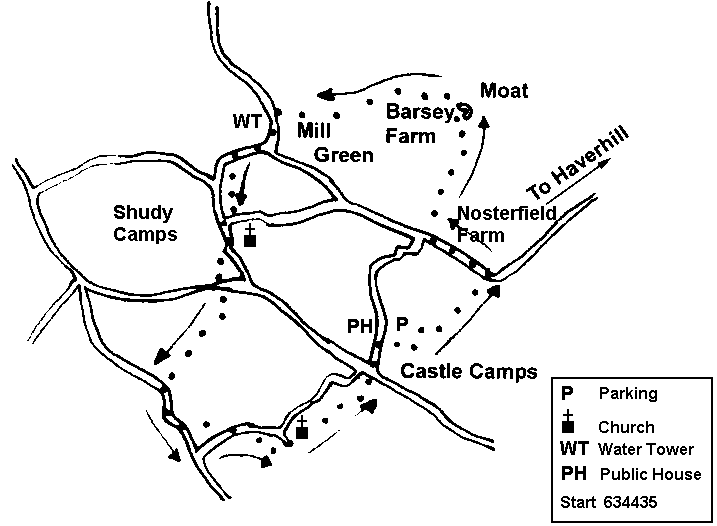 Castle Camps was a considerable airfield in WW2
Getting there Take the A1307 towards Haverill, soon after Linton take right to Bartlow, three miles beyond Bartlow turn left into High Street, Castle Camps.
Parking Park carefully on road near phone box, by The Cock GR634435
Map Explorer 210

Pub(s) The Cock Inn, Castle Camps

Book Cambridgeshire from the Air p 44
The Walk is about 6½ miles and will take about 2½/3 hours. Generally good under foot, but with some cross field paths; signing variable.
Go up drive opposite bus shelter, and enter field through kissing gate, up field, and sharp left along head path, right and then left. On approaching back of farm, take path over two stiles to emerge onto road. Turn left.
Pass Nosterfield Farm, and soon after turn right on to well made bridleway, and keep on this until house behind moat comes into view. Follow track as it swings left through hedge and on towards farm. Join farm drive, and then turn left down well used farm road [can be very muddy]. On reaching foot of hill, bear right into trees, and then almost immediately over wooden bridge into trees. Continue along track, with hedge on the right, turn right and then left, and emerge to field with field edge path to left. Path goes diagonally cross field to finish to left of white cottage: if wet, take field edge path, and at top of field turn right to reach the white cottage.
Emerge on to road, turn left, and shortly after water tower, turn right downhill. As slope levels off, turn left along line of poplars, with large hall on ridge to left. Cross emerging avenue of trees, climb slight rise, and emerge on to road. Turn right, and then left on reaching another road shortly. Pass church on left, and then take stile into field on right across entrance to Lordship Farm; cross field almost parallel to road; take stile out of field; look ahead to see clump of scrub/pond midfield—head for it. From scrubby trees look down hill — there is a bridge over deep dyke — cross it and the road, and go up hill with line of poplars on left. [Good blackberries in season]
Follow path round to right when it reaches copse and turn over bridge at end of copse; head half right, and pick up lovely grassy track, passing a copse, keeping hedge to left. Head down hill, and emerge onto road through five bar gate. Turn left, along road, and shortly afterwards turn left at junction, and head down hill. Soon find finger post pointing left, take this path to cross bridge, and bear left through hedge. Emerging, do not be tempted by well marked track going straight ahead, but bear up hill half right and on soon reaching slight ridge, spot bridge crossing ditch: head for it, and then on same line, head for another metal finger post on the road side.
Cross the road, and enter pasture field, with Castle Camps Church clearly ahead, and walk towards the bottom end of the churchyard, walk through churchyard to merge on to road. Head up to explanatory board about the village, here go through gate and follow path down hill, over bridge, up hill and bearing right, until track to left across field towards the village. Emerge into village street by Old Inn (note air station memorial to right), and turn half left , passing war memorial into main village street to return to the Cock Inn.
Neither the author nor his dog accept any responsibility for accuracy or for any injury or mishap that might befall any person who follows this walk. First published by "one man and his dog" in Great Shelford Village News August 2008