| | | |
| --- | --- | --- |
| | | A circular walk, Hinxworth, Ashwell and other lovely Hertfordshire villages |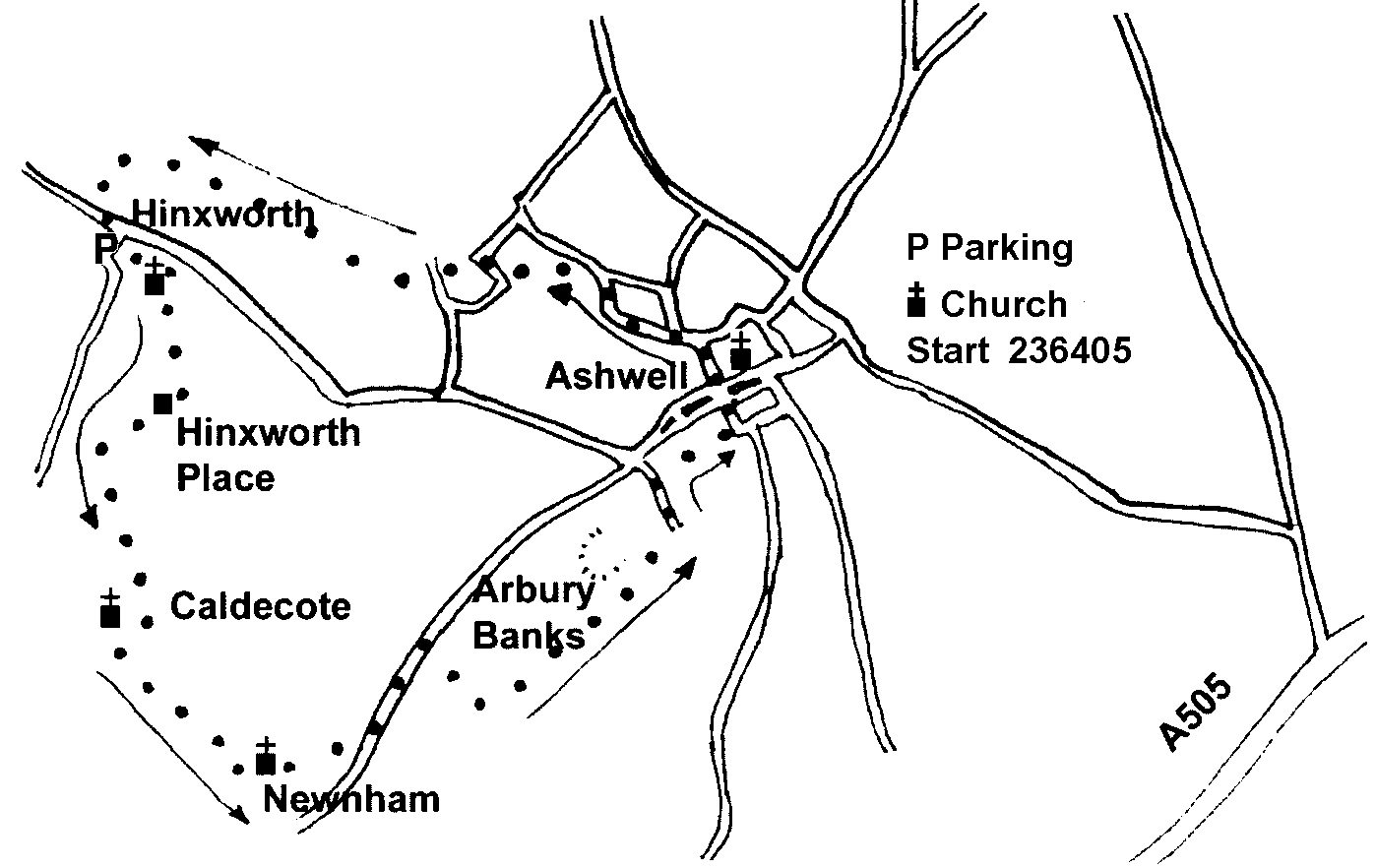 The walk is about 7 miles, and will take about 3 to 3½ hours. Good under foot and generally well signed. Ashwell Church tower in view for much of the way.
Getting there Take the A505 from Royston towards Baldock, turn right to Ashwell and the Mordens, then left towards Ashwell, and left again into Ashwell at the war memorial. At far end of Ashwell bear right to Hinxworth parking park carefully near the church on the left Explorer 208 Bedford and St.Neots
Grid ref. 236405
Map Explorer 193 Luton and Stevenage also used.

Pub(s) The Three Horseshoes, Hinxworth


The Walk
Go through the churchyard and head out through gate in south east comer of the churchyard to join path. Turn left through gate. Very soon cross bridge and turn right on good path, and follow this down to group of buildings, bearing right between them, with ancient house (Hinxworth Place) on your left. Do not turn left, but go straight ahead, ignoring path bearing right too. Follow on with hedge to right, and bear left at T junction of paths, heading towards buildings including a church. On getting near the buildings (Caldecote), bear left up farm track, and then turn sharp right at cottages, and emerge to road, passing entrance to farm house.
Head on down this road towards Newnham, and you might go into the church and churchyard here too - porch is good shelter for lunch break. Go back a few yards up the road from the churchyard, and turn right (or left if you have not gone down to the church!) and head off across a field, cross a brook: you are on a public right of way, even if it does not look like it, and head left across a series of pony/sheep paddocks to emerge on to the road.
Turn left along this road, and about 400 yards on, turn right at finger post and walk up hill past extensive farm buildings, to turn sharp left to walk to right of copse. Stay on this path, and reach curved fenced area (Arbury Rings... Ancient Monument), walk round about a quarter of the total ring, and bear off to the right towards two derelict caravans (hope they don't move them!), and go through hedge onto track. Turn left and then, about 200 yards further on, turn right into track/road. Keep going along this track, and soon after passing a small engineering works on the right, turn left down tarmac road towards the village. Pass the school on the right, and one junction on come into the main street of Ashwell. Turn right to get to the springs, the source of the River Rhee. Pass or enter the Three Tuns, and eventually make your way to the church (you cannot miss it). The church is much more magnificent on the outside than inside, but still worth a visit, as is the churchyard which in the north-east comer has a renowned Kindersley Workshop gravestone featured on BBC2, commemorating a recently deceased verger, sexton and brewery drayman.
Come out of the churchyard by the main gate at the west end of the church, and turn right, and then very soon left (having noted the old Merchant Taylors School on the left). Just before taking this left you could go down to the river/mill/brewery for a quick look, before returning to the route. Keep on this road, with large country house to the right (Lutyens had a hand in its refurbishment): ignore junction on left and then one to the right, but on sharp bend of the road to the right, turn on to a footpath to the left. Zigzag through trees to emerge on to substantial track and turn right. This track leads to a road - keep straight on, and where road bends through right angle to right, take footpath to the left, and proceed towards house and farm buildings. On meeting a track turn left and then almost immediately right across a field. At junction of paths by large farm building keep straight on (in blackberry season make foray to the right), and keep going towards Hinxworth in front of you. Keep going round the rim of the village till you meet substantial road (Chapel Lane) coming in from the left. Turn left down here towards centre of the village, and at road turn left again to pass The Three Horseshoes on the right (not open every day)
Finally, on the left, a large clock in a substantial tower is the village war memorial, and over the junction to find your car.
Neither the author nor his dog accept any responsibility for accuracy or for any injury or mishap that might befall any person who follows this walk. First published by "one man and his dog" in Great Shelford Village News June 2009