| | | |
| --- | --- | --- |
| | | Pasque flowers on Therfield Heath - a walk for April |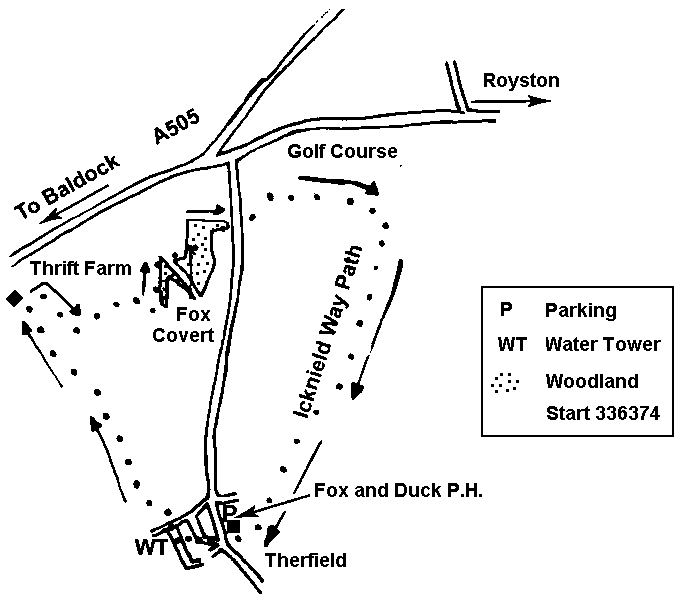 Getting there
Take the A505 TOWARDS Baldock, turn sharp left back towards Royston at western end of Royston by-pass [Little Chef] , and almost immediately turn right up hill, avoiding golf balls ! Therfield is straight ahead after about 2 or 3 miles.
Parking
Park carefully outside the pub Fox and Duck
Pub(s) The Fox and Duck, Therfield


The Walk
The walk is about 6 miles, and will take about 2½/ 3 hours. Fairly well signed
Standing with your back to the Fox and Duck, set off NW towards the top left hand corner of the Green, and go down Pedlars Lane. Almost immediately turn left at fingerpost across driveway of house, and to right of garage/outbuilding find stile, cross field and emerge on to lane, turn right to pass water Tower, and wonderful old house on the right. At road, turn right, and soon after dive left down hill , with chalk stream on left. Continue down this track passing shooting range, do not take cross field path to left, and approach farm buildings, turn right and then almost immediately right again to head SE and uphill. On reaching nearly the top, turn left along farm track, and at next track junction go straight ahead down hill and slightly to the right.
At bottom of the hill cross stile and turn left down dry valley, cross stile at substantial gate, and almost immediately turn right through fiendish metal clapper stile. Climb chalk slope [with violets] and head towards the right hand end of line of fence posts. Nearing the top, turn right along narrow path in the hillside, and find small patches of pasque flowers, the county flower of Cambridgeshire, here migrating into Hertfordshire.
Climb to top of ridge, and walk towards wood, through gate and turn left past board stating that this is Fox C overt, Continue through this wood, keeping golf course on the left, and emerge onto the road up from the Little Chef. Cross road, and find path skirting the top side of the golf course again. Keep on this track as it drops and rises, always within a few yards of the wood edge. Eventually the path swings right, again keeping parallel with field edge visible through thicket. In top corner find Icknield way, shortly bear right to join broad track, ignore all turns to left and right, and at top of hill keep straight on, to emerge through hedge into cross field path, head to waymark in hedge, over stile into wire-fence enclosed path leading to the Green and the Fox and Duck.
Neither the author nor his dog accept any responsibility for accuracy or for any injury or mishap that might befall any person who follows this walk. First published by "one man and his dog" in Great Shelford Village News April 2009