| | | |
| --- | --- | --- |
| | | Much Hadham Circular |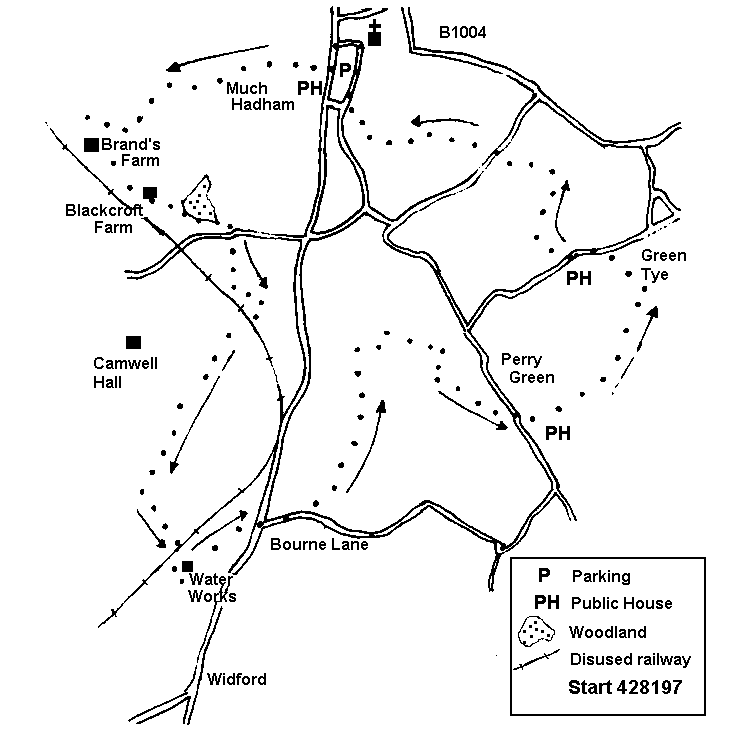 Quite a way to go, but lovely, different scenery: well wooded, so good colours in Autumn
Map and Grid Ref Explorer 194 GR 428197

Pub(s) The Bull, Much Hadham
The Hoops Inn, Perry Green
The Prince of Wales, Green Tye

Getting there Take the M11 to the Stanstead/Bishops Stortford junction. Follow the A120 towards Hertford, then the A1184, passing a hidden Tesco, and finally the B1004 to Much Hadham. Turn left into main street of MH, and park on the left under trees.

The Walk
Good paths; interesting views; lovely houses and farms . Pubs in MH, Perry Green and Green Tye About 8 miles.
From parking point continue into village, ignore turn to church on left, but after about 200 yards take bridleway to right. Keep on this tree lined track for nearly a mile, turn left on meeting concrete farm road, and soon after keep going forward on grass track, ignoring the farm road to the left. Emerge on to open ground with good view towards A10 [hidden!], and turn sharp left with hedge on left.
Onto good farm road serving Brands Farm , and soon after Blackcroft Farm on the right, look out for cross field path to left, heading towards waymark post on far wood edge. Turn right along the wood edge to reach stile, cross and turn right through gate, and head up with cottages on right to find steps down to road.
Cross road, and head cross field to waymark post, and then walk down road at back of houses, turn right on meeting estate road. At end of this road, bear right up hill to cross line of old railway , skirt to right round small hamlet and follow round with wood on left: ignore track to farm. Cross road and find gap on to path, with hedge on the left, then cross field to hedged garden , and go forward with hedge to right. At complex junction of paths head straight ahead, down hill, on cross field path, and re-cross railway line, and turn right.
Cross stream, and immediately turn left up concrete road to skirt water works, and finally emerge on main road. Cross road, and head up minor opposite [Bourne Lane], and soon after turn left through large metal gates on to a delightful shaded woodland walk. After about half a mile, turn right up hill, follow path round top of woodland, and almost immediately turn right up headland path, turn right at top, and then left to follow path down into Perry Green, passing through the grounds of the Henry Moore Foundation [opening hours on website]
At the green turn right [The Hoops is down the road , on the left], and head to bottom left hand corner of the green to find path along side ditch. Follow this path as it goes left, and then after half a mile turn sharp left, and emerge on to road in Green Tye beside the Prince of Wales [pub!] . Turn left, with greenhouses on right and after 250 yards or so turn right , and after another 250 yards turn right, then left over footbridge, and follow this path down to very narrow minor road. Cross this road and head up hill towards Victorian pile, and skirt its gardens to right and left, and then through gate on right to head down hill through meadow. At bottom, turn left, and then almost immediately right through gate into water meadow. Follow through to emerge onto road, turn right and shortly come to church on right [well worth a visit­Henry Moore window, and gargoyles: Flower Festival third w/e in September], and follow round left to road where car is parked.
Neither the author nor his dog accept any responsibility for accuracy or for any injury or mishap that might befall any person who follows this walk. First published by "one man and his dog" in Great Shelford Village News February 2009