A local walk - Foxton, Fowlmere, Newton and Thriplow (A round of war memorials)


Unfortunately it appears that there is no longer access along the track indicated out of Thriplow (after passing the notice welcoming walkers you will encounter multiple no-entry signs a few yards on). This walk should not be attempted at the moment while we clarify the situation.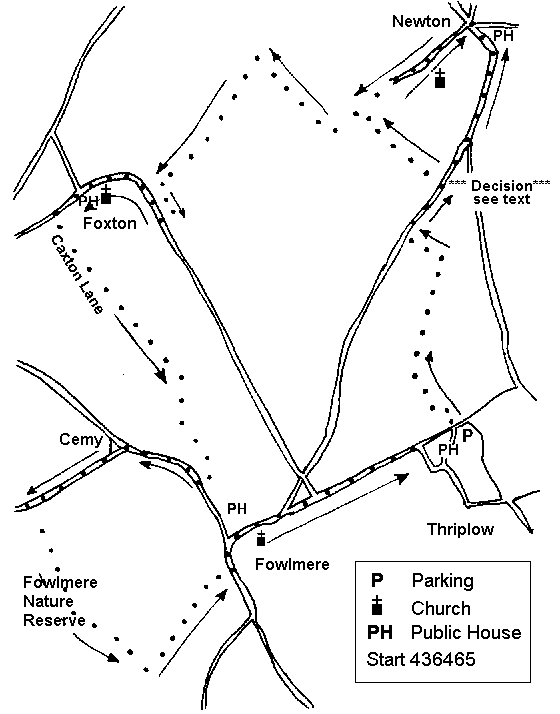 Good paths (but some road walking), many permissive, opened up by Oliver Walston of Thriplow Farms; interesting views from three hills (!) Range of War Memorials About 8/9 miles.
Map and Grid Ref:Explorer 209 GR 436465
Pub(s) The Green Man, Thriplow
The Chequers, Fowlmere


Getting there
Through Little Shelford towards Fowlmere, and turn left to Thriplow soon after Newton. Bear right in Thriplow, to park near pub and Village Hall.
The Walk
With back to War Memorial, and looking across the Green, head off to road at far side of the Green (Foremans Road); head out on to farm track at end of houses, passing notice welcoming walkers. After about 400 yards, bear right along farm track, ignoring track going straight ahead. Eventually the track turns sharp left, and reaches the Newton to Fowlmere Road..
Turn right inside the hedge and head up to gap opposite farm buildings on opposite side of road. Decision time: ***EITHER Continue along road, with little verge round two dodgy corners, and then wide verge into Newton (*** pick up walk again) OR, take track up right hand side of farm buildings, which loops left behind the buildings to the track which then goes on to reach T junction., and turn right to reach Newton.*** Newton has a War Memorial Hall, and a typical War Memorial, made unusual by an inscription remembering all the horses killed iin First World War.
Make (back) past the church, pass the track down to the farm building, and after about 300 yards, turn sharp right up hill on well made grass track. At top, survey the scene all around, then turn sharp left, down hill, through tree belt and across field on track. On reaching the hedge turn left** and follow round ends of gardens to reach the road, turn right (**suspect locals turn right, down to wooden gate, turn left and reach road)
Follow road round to pass church, and reach junction, overlooked by village War Memorial: briefly turn right at junction to look in door way of The Burlington Press where there is a "company" memorial, common after the First World War (cf Natwest in Market Street Cambridge). Back to the junction turn right, to pass ancient dovecot in field on left, and after 300 yards turn left up Caxton Lane (opposite well restored oast house)Follow this track for about a mile, uphill and down again, eventually reaching road by side of house.
Turn right down quite busy road, but soon turn left down Single Track road, with Fowlmere cemetery on right. After half mile or less, turn left at brown RSPB Reserve sign, and walk into car park. In CP go through at sign Entrance on the right, but immediately turn left up hard surfaced track, through gate at end and up hill . Soon reach USAF War Memorial, commemorating not only the US personnel who served there, but also the hospitality of Fowlmere "our haven in that war". Fowlmere also has a stone celebrating 50 years of peace from VE/VJ year. Soon after, turn left with cherry trees lining the route to the bottom of the hill. Turn left, and then bear right, passing the village War Memorial, commemorating from the Second World War one killed and one "missing".
Continue along this village street, with The Chequers on left (has good collection of photos of RAF Fowlmere, as well as food and drink!), and church on right. Towards the end of the village keep straight on at junction, to reach Thriplow along narrow roadside path
Neither the author nor his dog accept any responsibility for accuracy or for any injury or mishap that might befall any person who follows this walk. First published by "one man and his dog" in Great Shelford Village News December 2008