| | | |
| --- | --- | --- |
| | | Wilburton and Haddenham circular |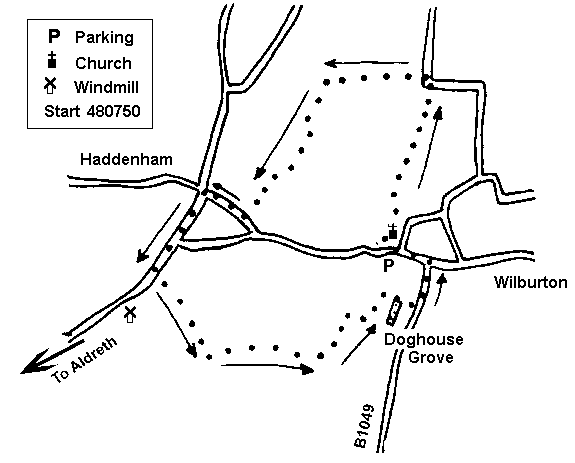 A good walk with views to Ely Cathedral in the first part of the walk, and then across the Ouse Valley and beyond in the second. Very good blackberrying in season.
Getting there
Take the B1049 through Histon and Cottenham out to Wilburton. At T junction in Wilburton turn left into main street, and shortly afterwards park on the right under tree, by the church.
Map and Grid Ref Explorer 226 GR 480750

The Walk
Good paths; interesting views and villages. Pubs in Wilburton and Haddenham, but all open every day About 6 miles.
(web editor's note - the pub in Wilburton does not serve food at lunchtime)
Take footpath behind the church, next to house called Gracelands [!], into pasture and after short distance, see waymark pointing right across plank bridge. Cross, and turn left up substantial farm track with very rough surface, lined by hedges. Keep on this track to reach sharp elbow bend in road, turn left along cinder track [permissive path], the former railway. Pass spinney on left, and same distance on turn, left down left hand side of substantial hedge. At far end, turn right through gap in hedge , and after narrow path , emerge into broader walk.
Look out for bridge and gate on left leading into rising pasture field with mown path. Head up here, then turn right into another field, and head to seat looking out northward to Ely Cathedral. Go through gate, and head along road/track to main road, turn right to reach the cross roads at the centre of the substantial village of Haddenham. At cross roads turn left down road towards Aldreth. Continue down this road for a good half mile, and shortly before reaching the de-restriction signs at the end of the village, turn left up a stony driveway with NO signpost [we are working on it!] At the end of the drive, to right of house facing, is a substantial wooden gate into a garden THIS IS THE FOOTPATH, enter and head to twin wooden gate at end of garden, leave through the gate to enter an apple orchard. Great views across the farmland, and behind to the windmill.
Drop down the hill, and reach a bridge on the left, cross the drain, and turn left along wide farm track, cross a road, and after good half mile, opposite farm buildings on right, turn left over metal bridge, through gate into pasture, part of conservation walk. Head on, through hedge over stile, turn right, and at line of oaks turn left uphill. At top turn right, and lead round field edge, to leave field by wooden gate , with wood on right. This is Dog House Grove, Cambridgeshire Wildlife Trust reserve, based on ancient fish ponds. Walk on to reach the road, turn left to reach main road in Wilburton, and turn left again to reach church and your car.
Neither the author nor his dog accept any responsibility for accuracy or for any injury or mishap that might befall any person who follows this walk. First published by "one man and his dog" in Great Shelford Village News October 2008