| | | |
| --- | --- | --- |
| | | A walk around Wimpole and Great Eversden |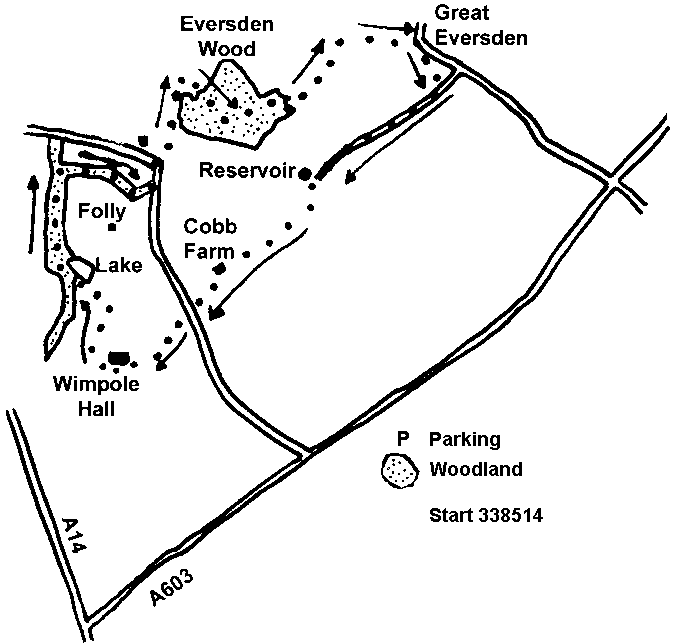 A local, easy to find walk, with good views and plenty of wildlife. Avoid in wet weather/after heavy rain. About 6 or 7 miles, and walkable in 2½ to3 hours
Getting there
Take the A603 out of Cambridge, and follow the National Trust sign to Wimpole Hall and Home Farm. Turn right for Wimpole soon after Orwell. Park in NT Car Park (Pay and Display for non-members)
Map Explorer 209 GR338514
The Walk
From the car park, walk round in front of the Hall, through a metal gate, and soon after another gate. From there head half right over shoulder of a knoll, and go towards a bridge over a ha-ha (ditch). Head off straight down the hill, to left of lake, to find bridge across: from here head up path in front, following a stream on the left. At top, cross wooden bridge and soon reach track in woods.
Turn right, and soon reach road; turn left and walk up road to reach major path cross roads. Walk straight ahead across the field (path should obvious), across one farm track to join another which then leads towards wood edge. Keep going along with wood on right, and at wood end turn right towards the wood along track. Enter Eversden Wood (SSSI*) keep going forward, across one ride cross roads, and after maybe 500m turn left at waymarked post.
Continue to wood edge, then turn right, and keep wood on right. Soon after wood ends, drop to large ditch, and turn left with stream on right. Reach substantial, waymarked, trackway and turn right up grassy incline. On dropping down, go over stile by gate, head down with substantial bam on left, and out on to road over stile by another gate.
Immediately turn right over a stile into pasture field, and cross diagonally to gate in far left comer, then out into grassy track, through gate and along drive out on to tarmac road. At road turn right, and head up hill after leaving houses, and eventually reach two concrete reservoirs (turn around to admire the view in every direction), through hedge opposite, with sign to Wimpole 1 mile. Head along path, and bear right at sign by thicket, to join substantial track which swings down chalk scarp (Rowland Hillder painting come to life), passing Cobb Farm, to reach road.
Virtually opposite, slightly to the left, is gate into parkland: go through this and another gate on left and head towards the far comer, converging on the entrance drive. Gate at far end leads to car park and refreshments.
Note: Thanks to SOS Childrens' Villages who devised this walk for a fund raising event.
*For information on Eversden Wood SSSI, see www.english-nature.org.uk/citation/citation_photo/1000416.pdf
Neither the author nor his dog accept any responsibility for accuracy or for any injury or mishap that might befall any person who follows this walk. First published by "one man and his dog" in Great Shelford Village News August 2008