| | | |
| --- | --- | --- |
| | | The Magog Downs and Wandlebury |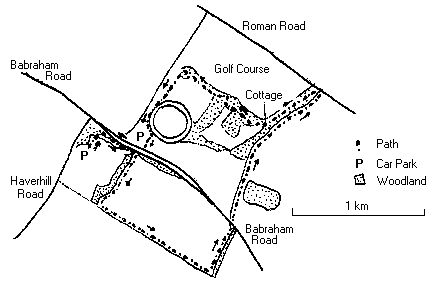 A good winter walk, without going too far
The walk described might take about one and a half hours to complete The going should not be too muddy, but strong shoes are advised. There are many variations to this walk, allowing for changes in weather and energy.
Park/Start The Magog Downs Car Park, Haverhill Road Stapleford.
Route
Head for the secure dog-walking track parallel to the Haverhill Road at the eastern end of the Car Park; follow round and up the hill now parallel to the Babraham Road.
Down the slope, bear right [but do not turn into the wood through a gate], and follow the path keeping the wood to your right, the downland to your left, with good views to the south and west.
Follow this track for about half a mile when a sharp left hand bend in the track takes you down hill in a very straight line. Eventually, the track turns left again, with woodland to the right, and then left again, with Babraham Road on your right.
After a short distance, go through a gate, and cross the Babraham Road, to a well made track Follow this track, with the woods of Wandlebury to your left, until you almost reach the Roman Road.
Turn sharp left in front of a wooden fence, and almost immediately left again into an avenue of trees. At the end of the avenue, turn right in front of a cottage in the wood, and then shortly bear right through the woods, and follow the track up a rise.
Shortly after a bench looking out over open ground to the left, turn sharp right through the wood towards another raised bench looking over the new golf course [on a clear day you can see Ely Cathedral in the distance]. Turn left.
Continue on this track bearing to the right, with open pasture to the left, a strip of woodland and the golf course to the right. This track then turns shapr left, and after a short distance swings to the right.
Turn left at a fork, with the Wandlebury Ring to the left, and on meeting the tarmac path, turn right through the car park, and head to the Babraham Road.
Cross the Road, and re-enter the Magog dog run through a gate. Turn right, and retrace steps to the Car park, either along the dog run, or by entering the downland at the junction of several paths shortly after rejoining the dog run.
Neither the author nor his dog accept any responsibility for accuracy or for any injury or mishap that might befall any person who follows this walk. First published by "one man and his dog" in Great Shelford Village News October 2002