| | | |
| --- | --- | --- |
| | | A walk from Chrishall Church |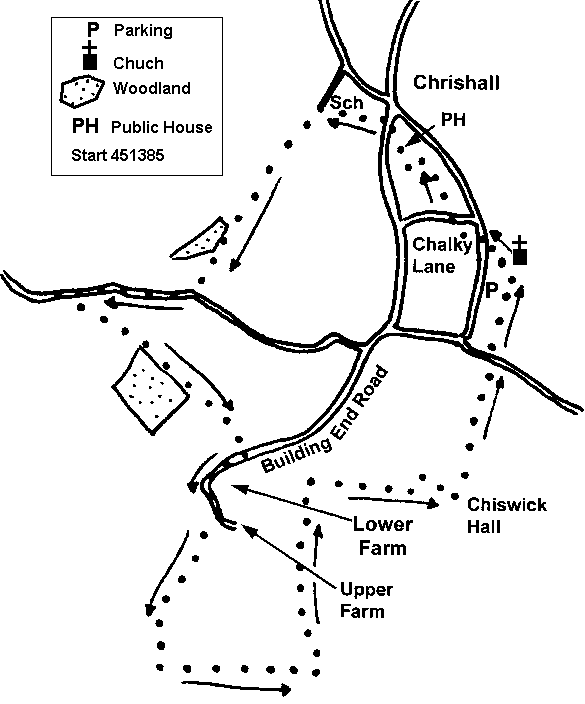 Getting there
Go out through Newton and Fowlmere, cross the A505 at Flint Cross, and take the B1368 towards, turn left through Heydon, then right towards Chrishall. In Chrishall go across at junction, and soon after Chalky Lane on the right, turn up narrow entrance to park in churchyard of Chrishall Church
Map
Explorer Map 194 GR for churchyard 451385
Pub(s) The Red Cow, Chrishall


The Walk
Generally on good paths and well signed. Will take about 2 1/2 hours, with church in view for much of the time.
From the parking place, walk straight towards church tower, to find gap and stile in hedge to left, follow this path to road, cross road and follow narrow path up slope between post and rail fences. Path swings right and then crosses lane [note old pump to left] and follow path up field, with hedge on right; follow path round edge of field to reach path T junction, and turn right to enter village lane. Follow up to main road, to find pub on right; cross road and take short walk up gravel drive to reach playing field. Cross to bridge opposite, then follow path to reach lane, where you turn left
Head down this track, ignoring path off to right, to reach field edge., looking down to wood, with bridge visible to left of wood. Head cross field [hopefully re-instated!] , cross bridge and walk up track with [bluebell?] wood on right to reach road. Turn right along this road, and after 100 yards, farm track on left is tempting, but not a Right of Way. If being law-abiding continue along road verge for another 600 yards, then turn left through gap in hedge by finger post, and get on to path heading right of thicket, and head off down hill to left hand edge of another [bluebell] wood. The less law abiding join in again at this point.
Continue down this track to reach land at bottom of hill. Turn right along this tarmac road, and after passing various farms and houses, bear right where tarmac track swings left up hill. Continue along this track for about half a mile until super grassy track takes off up hill to the left, with waymark on post. At path T junction turn left , and right and left over a stream, and walk down valley with ditch on left. After about another half mile ignore path to left but 50 yards further on turn right up field at footbridge and path to left. Hopefully path re-instated, but press regardless, and when you reach top of ridge distant way mark in hedge indicates target. Go through hedge and turn left, to reach post and rail fence round pony paddock. Turn right at this fence, and go up field to find driveway off to left with tennis court to left and black barn to right. Go forward with fence to left and hedge to right, to emerge onto drive, with view of church in front.
Walk down the track to reach road, turn left along road for short distance, then right over bridge, and up the field to the church
Neither the author nor his dog accept any responsibility for accuracy or for any injury or mishap that might befall any person who follows this walk. First published by "one man and his dog" in Great Shelford Village News April 2008