| | | |
| --- | --- | --- |
| | | A short walk to see daffodils and primroses from Patmore Heath |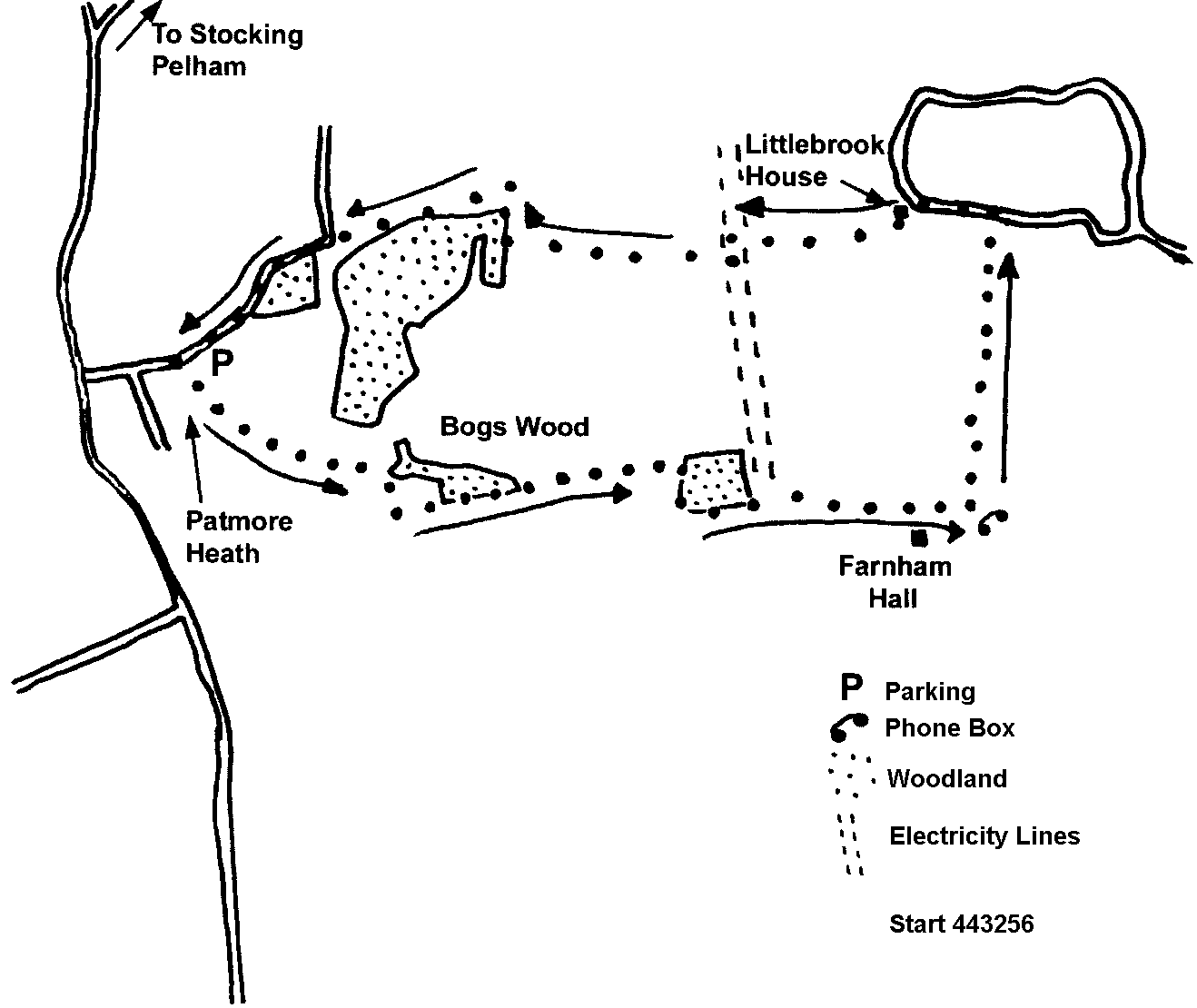 A walk for early/mid March: quite a drive to get there, but good things to see: wild flowers, lovely hamlets, and ancient greens and commons.
Getting there: Take the A1301 towards Saffron Walden, then the B1383 to Newport, turn right onto the B1038 to Clavering, turn left to Berden and Stocking Pelham, and left again towards Little Hadham and Albury. In hamlet of Gravesend, turn left, and shortly right alongside Patmore Heath: park on the green on the left. (Can also be approached from B 1368, Flint Cross to Puckeridge Road, but a bit more twisty)
Map and Grid Ref:Explorer 194 GR443256

Pub(s) The Catherine Wheel, Gravesend, Albury

The Walk: Reasonably well signed and generally good underfoot, but with some wet spots - takes about 2 hours
Walk across the Heath in SE direction, and find footpath leading down-hill to right of The Hunting Box (with chance to buy honey at house further to the right). Walk down hill, and up to junction; cross tarmac road and head forward up grassy track half right.
Shortly turn left, and after little distance Bogs Wood on left has lovely display of short, wild daffodils. Continue on this path, round another wood to reach track, houses, and tarmac road. Soon after Farnham Hall, turn left at phone box and at the green bear left on tarmac road, and at end of green and road forward through narrow gap onto footpath which after two fields drops down to tarmac road.
Turn left, and after short distance turn left by the side of Littlebrook House and follow path, which has hedge first on right and then left. Under electricity lines turn left and then right, to continue across field, with primroses in ditch to right, and mad March hares in the field. At wood, turn right along track and shortly drop down steps, over bridge and out into a field.
Turn left and walk along wood edge, then as wood edge goes left, continue straight forward towards opposite hedge, to find gap onto road to the left of large tree. At road, turn left, and proceed up-hill to find Patmore Heath.
(There is now no pub in the hamlet: however. The Cock at Stocking Pelham nearby is very welcoming) (Web editor's note: The Catherine Wheel pub re-opened in August 2007)
Neither the author nor his dog accept any responsibility for accuracy or for any injury or mishap that might befall any person who follows this walk. First published by "one man and his dog" in Great Shelford Village News February 2008