| | | |
| --- | --- | --- |
| | | A Circular walk from Coton |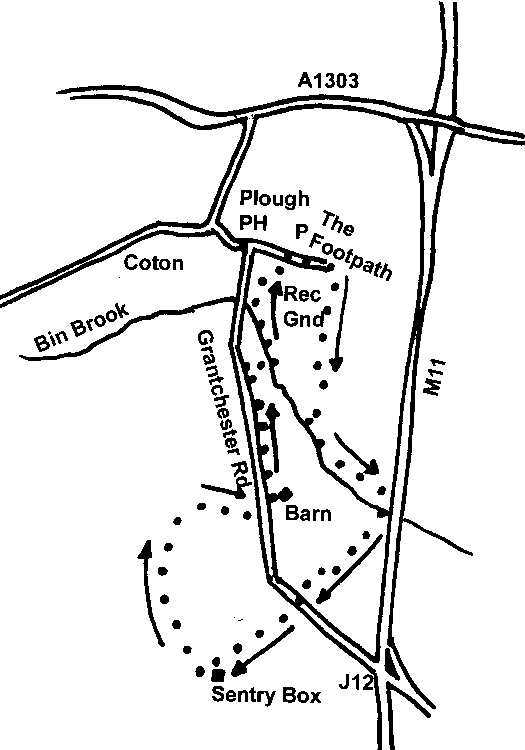 Lots of good dry paths and an amazing view of the Cambridge skyline
Getting there
Take the minor road to Coton from the roundabout near junction 12 of the M 11
Parking
For the moment park carefully in The Footpath (GR414588), a sharp right as you enter the village. During 2007 a car park on the road from the roundabout may be developed, in which case the walk described can start from the Barn, see on map and *** below.
Pub(s) The Plough, Coton


The Walk
The walk is about 2½ miles, and will take about 1½ hours. Generally very good under foot; signing variable at the moment, but will improve with time. The walk is through the Coton Countryside Reserve owned and managed by the Cambridge Preservation Trust, who also care for Wandlebury: further info on Coton from http://www.cpswandlebury.org.
Continue down The Footpath, passing Recreation ground and pavilion on the right, and shortly after turn right through formidable gate. Notices of interest on the left. Straight on down farm road to reach T junction and, if reasonably dry, go straight ahead through kissing gate into meadow with ridge and furrow, through further gate, and another, to emerge on to farm road. (If wet, bear left at T junction above, but arrive at this same point.)
Turn right and cross the Bin Brook, and then turn sharp left around field very close to M1l, cross wooden bridge in far comer and go forward to reach the road. Cross road, and keep to hedge on the left until reaching a sentry box (rifle range ahead!) Turn sharp right and go up hill and through gate, and bear right up hill, and left up steps to reach "summit" (all things are comparative!) Fantastic views: Madingley Ridge and American Cemetery; round to St. Johns College tower; University Library; The Catholic Church; Addenbrookes; King's; the Gogs; the Anglian chalk ridge.. .it's all there.
Drop down sharply, and at the bottom of the hill turn sharp right, with hedge on left. At the road cross to barn *** where car park and various low-key facilities will be built in due course. Turn sharp left and walk in the field parallel to road, with hedge on left. Over a bridge (or skirt ditch by going in one gate and out the other if bridge not yet complete) and at next major hedge turn right, and then soon left through gate into meadow again. Do not follow path out on to the road, but walk forward, and to the right of cream coloured house, go through hedge into the Rec, and going forward find The Plough, if needed or wanted, and The Footpath.
Neither the author nor his dog accept any responsibility for accuracy or for any injury or mishap that might befall any person who follows this walk. First published by "one man and his dog" in Great Shelford Village News December 2007