| | | |
| --- | --- | --- |
| | | Tempsford - an airfield, war memorials, meadow and parkland |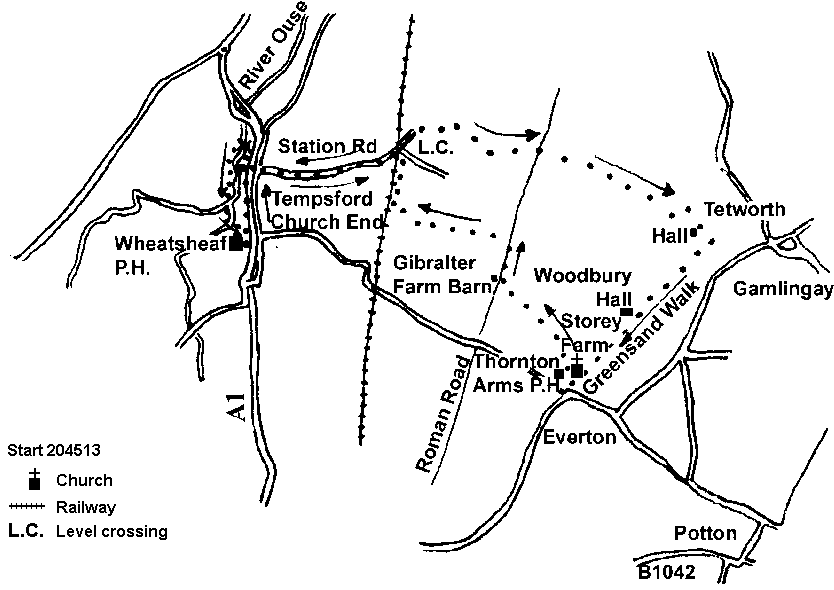 A whole day walk for early November
Getting there Take A603 towards Sandy, then B1042 to Potton, and turn right and then left in Potton to Everton. Park near church, just beyond The Thornton Arms.
Map Explorer 208 GR 204513
Pub(s) The Wheat Sheaf, Tempsford
The Thornton Arms, Everton

The Walk Not arduous; takes about five hour; generally very well made paths, and good signage. Good views from ridge into Bedfordshire, and parkland walking very pleasant.

RAF Tempsford was an important base during the Second World War, and it was from here that agents were flown to and from occupied Europe. Do visit Everton church—open Friday, Saturday and Sunday: built of greensand, and very stout. In the graveyard are Commonwealth War Graves Commission graves to some of those killed.
The Route: From the church head north-west down hill, as the road becomes a track, and then swings sharp left, passing Victoria Farm to reach bridleway (Roman Road). Turn right, and almost immediately on the left is Gibraltar Farm Barn, now a memorial to the agents who operated from Tempsford. The barn is actually on private land, and one should contact the owner , Lady Erroll (01767 650251) for permission to approach and enter the barn.
Half a mile beyond the barn turn left, to reach the main railway line, turn right, and reach level crossing. Cross into Tempsford (Station Road) and walk through charming village with various old houses to reach main road, with monstrous steel footbridge. Cross the A1 on the bridge, and come down in front of the Anchor, bear right in front of the pub, and then turn left at finger post, down towards the river and bear right to a small footbridge over the River Ouse. Immediately turn left, and continue along river bank (not going into Roxton) to reach Roxton Lock. Cross at the weir and continue straight on to another bridge. Do not cross this bridge but turn right and follow footpath, crossing the next bridge on the left. The path continues through a farm and emerges on to the old A1 in Tempsford Church End. Turn right to reach another pub, The Wheatsheaf, and St.Peter's Church, with more memorials to those who served. ( to gain access try Vicar 01234 870363 in first instance).
Retrace steps past the Wheatsheaf, to reach the Stuart Memorial Hall, the village hall presented to the village by the Stuarts of Tempsford Hall in memory of their son and all the villagers killed in the First World War. Re- climb the bridge, and walk back along Station Road, cross the level crossing, and bear left along road which turns into a track, which then swings right towards a distant ridge. 2 ˝ miles later you reach the ridge at Tetworth. At top of rise, where concrete track swings left, turn right through gate marked with Greensand Ridge Walk logo, and pass in front of Tetworth Hall Follow the Greensand Ridge Walk logos for the rest of the walk: watch carefully at one T junction where you turn right and 20 yards further on turn left to enter rather neglected parkland in front of Woodbury Hall, and then on, passing Storey Farm, a wonderful piece of late C19th romanticism, and emerge along estate drive to Everton Church.
Neither the author nor his dog accept any responsibility for accuracy or for any injury or mishap that might befall any person who follows this walk. First published by "one man and his dog" in Great Shelford Village News October 2007