| | | |
| --- | --- | --- |
| | | Four Fenland villages, near at hand |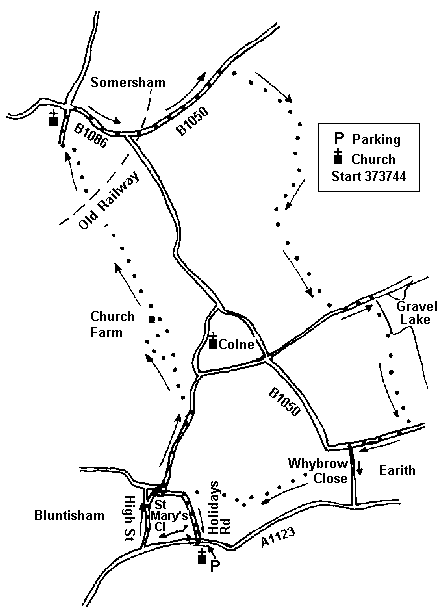 A walk through more interesting Huntingdonshire villages, and with really rural scenery in between. Historical interest in abundance too. Mid September is a good time for this walk: Blackberries, sloes, elderberries, wild and not so wild plums to pick, and many stalls outside houses selling a range of fruit.
Getting there
Take A 14 westbound, turn off toward Willingham/Earith on the B1050 at Bar Hill, and travel through Willingham and Earith to Bluntisham. Park close to wall at the church GR 373744. (See bottom of map).
Map Explorer 225

Pub(s) The White Swan, Bluntisham

The Walk

Generally good underfoot. Signage pretty good, and walk will take 3 or more hours depending on time spent in churches. Not to be walked after strong winds and/or heavy rain!
Cross the road from the church and walk up Hollidays Road opposite. Soon turn left into St.Mary's Close, and walk up the right-hand line of houses, which becomes tree-lined path. Walk on past the graveyard and, on reaching the road, turn right. Almost on your right is the large Baptist Meeting House, surrounded by the graveyard. (Baptists have traditionally been strong in The Fens, and the size of this building bears witness to this.) Up the High Street, and bear right in front of Rowell's Stores, and then turn left towards Colne.
Pass St.Helens Primary School, and soon after the Colne village sign, turn left at footpath finger post (and Pathfinder path sign, which continues to Somersham) and then right between farm buildings, and continue along the back of the houses and gardens. On reaching an orchard you can take a quick turn to the right and walk to the church with its squat tower, and then return to this point. Go round the abandoned orchard, and walk through it at a sharp right-hand bend, to reach a concrete road. Turn right along this road, pass between two farm-houses, bear right, and then turn sharp left at footpath sign. Barn announces Church Farm, pass to the right and head to line of poplars, and then walk to the right of the poplars. Enter next field, and head up the field with the hedge on the right, and Somersham Church straight ahead.
At field end turn left, and then soon right onto good grassy path that will lead you to an old railway. Cross the embankment, up steps, across and immediately down again, over a stile, into a field and head for metal gate. Follow through and go up road, with church on left. At junction turn right along B1086, and at next junction bear left up Station Approach and down the opposite side on B1050.
Keep going on this road (The Bank) with mixture of old cottages (and delightful milestone) and new in-fill building. Pass Dews coach depot on left, and soon after, spot Footpath sign to right over newish wooden bridge. Follow this path through various twists and turns with wood on right, and then gravel lake on the left, with much wild fowl. Do not miss metal gate into long copse rightnext to the fence, track through the copse and, on emerging, walk straight ahead towards water tower. Swing left and then right, and turn left along a very obvious hedge-lined grassy drove where a large ditch starts on the left.
On reaching a road, turn left, and after about 250 yards turn right in front of long thick hedge (sign missing at time of recce, but working on it!). Gravel lake barely visible on the left, and at end of hedge go through gap, over bridge and out through kissing gate.
DO NOT GO LEFT through obvious kissing gate, but head off slightly right with hedge to left. Keep going through various gates, to emerge on to road, turn right and after about 400 yards turn left down B 1050.
Down here, and as houses start on the right, turn right into Whybrow Close and exit through metal kissing gate into field. Keep close to left-hand boundary and exit over stile in comer, turn right with nasty metal fence on the left, and soon after fence turns left, turn left through remains of orchard. Emerge to follow path on field edge, with old gravel workings on left and Bluntisham church spire ahead.
Keep going straight on this path which becomes a residential road with playing field on the right to enter Bluntisham via Mill Lane. At cross-road turn left into Holidays Road, and walk down to the church.
Neither the author nor his dog accept any responsibility for accuracy or for any injury or mishap that might befall any person who follows this walk. First published by "one man and his dog" in Great Shelford Village News August 2007