| | | |
| --- | --- | --- |
| | | Circular walk from Sandon to Rushden and back |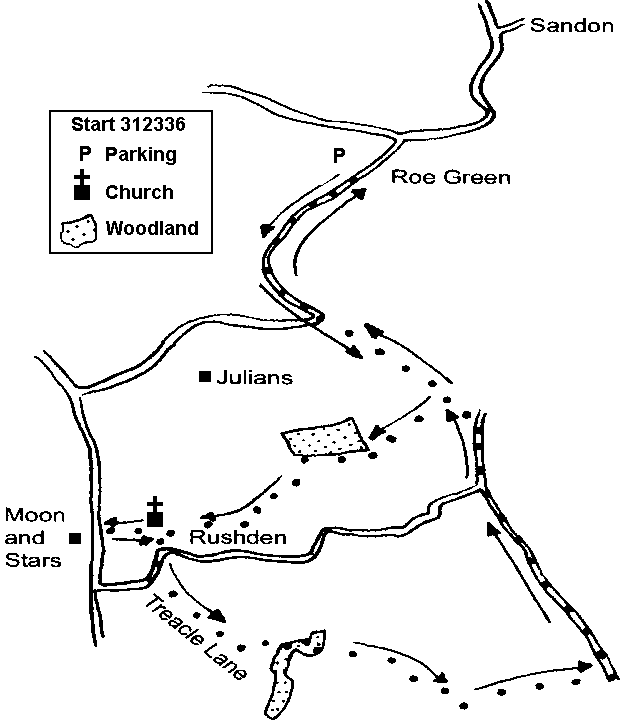 Getting there: Take the A505 towards Baldock; turn left to Sandon some three miles after Royston. Then turn right at Sandon church, drive through village to large open green (Roe Green).
Map: Explorer 194 GR 315336

Pub(s) The Fox and Duck, Therfield

Parking: Park carefully on road (signposted Rushden) by side of football posts, near cricket pavilion.
The Walk: The walk is about 6 miles, and will take about 2½/3 hours. It can be very wet under foot but there are good tracks, with good signs. When the ground is dry there are good alternatives using less road - see map, and work out some variations.

Walk down the generally quiet road away from the green and the village, with footpaths going off to right and left. At telephone mast on sharp right-hand bend, take footpath straight ahead (do NOT turn sharp left), and cross grass field to hedge comer, and walk on with hedge on your right. After 400 or so yards, turn right through hedge at way-mark, and follow field edge track to a wood. Keep by wood on right, and at wood end, turn up through long spinney to the left (do not follow cart track). It is a lovely walk through the spinney, with view to country house, 'Julians', to the right. Continue over various bridges and boards to reach path cross-roads, and turn sharp right toward the church through pony paddocks.
The church (£3 for pictorial history of Rushden) and churchyard are well worth a stop and, if in need of a drink or food, go out of gate opposite west end of church and walk down to The Moon and Stars (not open all day!) on 'main' road.
Retrace steps back to the church, turn down right into the village and, at junction, bear right down main street, admiring thatched and half-timbered houses to left and right. Turn left up Treacle Lane through 'council houses' and out into open country, turning left and right and finally emerge from wood. Head straight down hill to hedge at bottom, and look for bridge: cross this bridge and head uphill, with thicket on left.
At top, turn right at way-marked post, and find another bridge to cross, and then turn sharp left, with ditch on left, and head toward right hand of white houses. Meet tarmac road, and turn left, in front of various farms, and soon after reach a road to Rushden coming in from the left; bear left (do not take concrete track to right unless being adventurous), follow hedge round to left and soon pass place where you dived through the hedge on outward trip. Walk on towards the telephone mast, and at road turn right along the same quiet road back to your car. More information about Rushden Village can be found on their excellent website at www.rushdenherts.org.uk.
Neither the author nor his dog accept any responsibility for accuracy or for any injury or mishap that might befall any person who follows this walk. First published by "one man and his dog" in Great Shelford Village News June 2007