| | | |
| --- | --- | --- |
| | | The Giddings |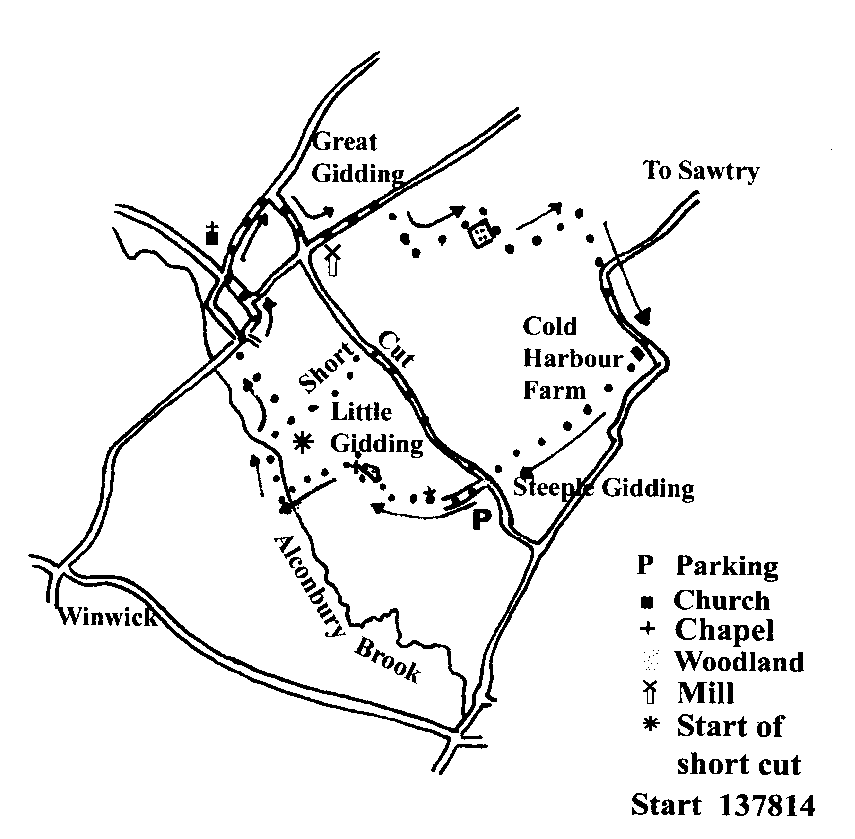 A shortish walk through the Huntingdonshire Wolds, countryside totally unlike that around us here: historical interest in abundance too.
Getting there Take A 14 and then the Al Northward. Turn off at Sawtry, and in Sawtry turn left up Gidding Road. Follow this road as it zigzags towards Hamerton, and turn right towards Steeple Gidding at signpost. Park on verge just short of the Steeple Gidding village sign.
Map Explorer 227 GR137814 The churches at Anstey and Little Giddings are both in '1000 Best Churches' by Simon Jenkins.
The Walk
Generally good underfoot. Signage pretty good, and walk will take 2 or 3 hoursepending on route taken and time spent in churches.
Go down road (cul de sac) into Steeple Gidding, and make sure you visit the church beautifully maintained though redundant. Go forward from the church on good track, and follow round to the left of the wood. Down the hill and then up again, and turn right towards house and farm buildings: this is Little Gidding.
Visit the Church, which has very interesting C17th history, and also links to T.S.Eliot (fourth quartet of Four Quartets is titled 'Little Gidding') Ferrer House is now conference centre, information centre and tea rooms- well worth a visit. Take money for books, cards and tea.
Retreat through the gate whence you arrived and head off down long field and in bottom right hand corner go through gate, turn left, and left again along stream bank to cross bridge over stream. Forward for about 20 yards and through the hedge on your right. Cross two fields, and then re-cross the stream and head up field.
At substantial fence turn left or follow short-cut (described below*) and follow up field. At T-Junction turn right, and shortly after keep straight on. then swing left into village, turning right at cross roads, to pass/enter Great Gidding church on your left.
At next junction turn right into Mill Road, and turn left at the Mill, on to a footpath to the right, and then turn sharp left before meeting T-junction near wood. Turn right, and follow path to T-junction, and turn left. At major path T- junction turn right into wide drove road (a cattle rat run in the 19th century) Continue straight down this path and on again as it joins road (from Sawtry) and just past Cold Harbour Farm turn right onto footpath back to your car at Steeple Gidding.
*Short cut. Do not go left at this point, but straight up the field and at road turn right, and walk back down the road to your car.
Neither the author nor his dog accept any responsibility for accuracy or for any injury or mishap that might befall any person who follows this walk. First published by "one man and his dog" in Great Shelford Village News April 2007