| | | |
| --- | --- | --- |
| | | A walk along Cow Lane, passing Hildersham Wood and down Park Road |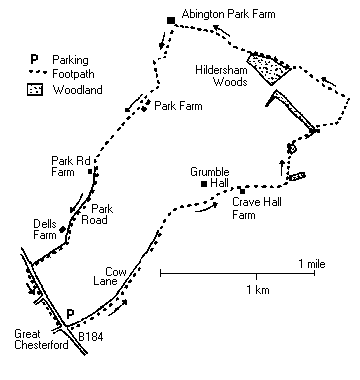 A local, easy to find, predominantly dry walk, with good views and plenty of wildlife.
Getting There Take the A1301 down to Stump Cross, then the B 184 towards Saffron Walden. Park on grassy verge at second turning on the left [Cow Lane], a short mile after Stump Cross roundabout.
Pub(s) The Plough, Great Chesterford

The Walk

Walk up Cow Lane, away from the Saffron Walden road, with valley to the left. Pass kennels, ignore the right turn, and walk on metalled road to Crave Hall Farm.
Pass through gate, onto grassy path, walk on, ignoring footpath from the right, but shortly afterwards, turn left along field edge.
At top of rise, path turns sharp right along wood edge. At the end of this straight, pass into the wood, and almost immediately out again. Diagonal path across field to the right may be obvious-if it is, take it; if not, turn sharp right, and then left at farm buildings. Diagonal path then meets track: walk down hill for one field, and then turn sharp left along broken brick track. with scrubby hedge on the right. At end of this hedge, turn left, and almost immediately right, with Hildersham Wood on your left. Look out and listen for deer.
After the wood join track, and walk on to farm buildings and cottages, ignoring concrete track to the right [down to Gt.Abington-a walk for another day]. Just after the farm buildings, turn left and follow well waymarked field edge path until you meet road.
Turn right, pass Park Farm, and swing down the road, passing succession of cottages and farms. At main road, turn left, and walk down wide verge on the far side of the road. Ignore road into Great Chesterford, and walk up to Cow Lane. [Great Chesterford's pubs are down to the right at Cow Lane]
Neither the author nor his dog accept any responsibility for accuracy or for any injury or mishap that might befall any person who follows this walk. First published by "one man and his dog" in Great Shelford Village News April 2003