| | | |
| --- | --- | --- |
| | | The Greensand Ridge and Everton - a very different landscape and stone |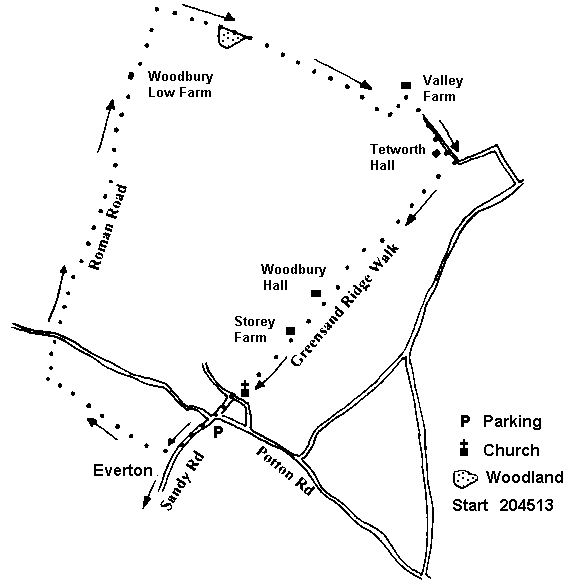 Getting there
Take A603 towards Sandy, then B1042 to Potton, and turn right and then left in Potton to Everton. Park near church, just beyond The Thornton Arms. Can be combined with a trip to RSPB Sandy.
Map
Explorer 208 GR 204513
Pub(s) The Thornton Arms, Everton


The Walk
Not arduous; takes about two/two and a half hours; generally very well made paths, and good signage. Good views from ridge into Bedfordshire, and parkland walking very pleasant­ Mr Darcy might appear.
Lots of blackberries and sloes in season, so take plastic bags
Do visit the church open Friday, Saturday and Sunday: built of greensand, and very stout.
The Route
Go back past the Thornton Arms on the Sandy Road, and walk almost out of the village. Just before end of houses and the de-restriction sign, turn right between houses at finger post with Greensand Ridge Walk logo, and head down hill. Reach bottom of hill, and T junction: turn right to join Roman road, and follow it for a good mile and more, as it becomes perimeter road of former RAF airfield, crossing main road, skirting rubble of runway to left and then right, forward to Woodbury Low Farm, and on to cross ditch at substantial footbridge.
Turn right, with wood soon on right, and follow path as it swings left round end of field. Turn right again at track, and head up hill past Valley Farm and then stables to right and wooden houses to left. At top of rise, where concrete track swings left, turn right through gate marked with Greensand Ridge Walk logo, and pass in front of Tetworth Hall [home of the Misses Bennett?]. Follow the Greensand Ridge Walk logos for the rest of the walk: watch carefully at one T junction where you turn right and 20 yards further on turn left to enter rather neglected parkland in front of Woodbury Hall, and then on passing Storey Farm, a wonderful piece of late C19th romanticism, and emerge along estate drive to Everton Church.
Neither the author nor his dog accept any responsibility for accuracy or for any injury or mishap that might befall any person who follows this walk. First published by "one man and his dog" in Great Shelford Village News October 2006