| | | |
| --- | --- | --- |
| | | A walk through lovely Huntingdonshire - villages, riverside scenery and historical interest |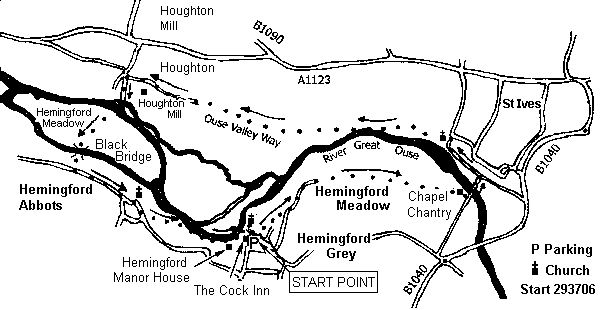 Getting there
Take A14 westbound, turn off toward St Ives on the A1096, and soon turn left to The Hemingfords. Turn right into Hemingford Grey, then left in the village to reach The Cock Inn. Park at or near The Cock (excellent good value two-course lunch: booking advisable).

Pub(s) The Cock, Hemingford Grey
The Axe and Compass, Hemingford Abbots
The Oliver Cromwell, St Ives
Map
Explorer 225 GR293706. Also see book England's Thousand Best Churches by Simon Jenkins. Page 294 describes Hemingford Grey Church and its history.
The Walk
Generally good underfoot. Signage pretty good, and walk will take 2 or 3 hours depending on time spent in churches. Not to be walked after heavy rain!
Go down road by the side of The Cock, and at junction turn right, with view of church (to be visited later) to the left. Shortly afterwards turn left along footpath, and at road, cross and go straight ahead, with small estate to the left. Go down to gate at bottom of the lane, and enter Hemingford Meadow, turning right towards St Ives.
Reach St Ives through the car park of The Dolphin Hotel. Turn left and cross the river by the ancient bridge (with chantry chapel). Take first left in town and emerge into the main street, and continue towards church, with river on the left. Pass through churchyard, and onto path towards Houghton. Continue along this path (Ouse Valley Way) but keep on metalled road into the centre of Houghton, rather than taking earlier left turns towards the river. The central square is surrounded by lovely old houses, and boasts a statue to Potto Brown, a local benefactor. Turn left to pass/enter church on right, and reach the river by passage way under Houghton Mill (National Trust, with tea room and toilets, in season). Cross Hemingford Meadow on tarmac path, and cross the river at Black Bridge.
Walk up to the road, and turn left into Hemingford Abbotts, with short diversion to left to visit the church. Soon after emerging from road to church, keep left through village to find footpath to the left, leading by the river back into Hemingford Grey, passing the Manor House*, to reach the Church along a narrow riverside path. The views towards the Church, and then the churchyard, are wonderful.
* A visit to Hemingford Manor House and Gardens (formerly home of children's author Lucy Boston) can also be taken provided you have pre-booked with Diana Boston. See www.greenknowe.co.uk for further details.
Neither the author nor his dog accept any responsibility for accuracy or for any injury or mishap that might befall any person who follows this walk. First published by "one man and his dog" in Great Shelford Village News August 2006