| | | |
| --- | --- | --- |
| | | Barrington and Shepreth circular walk - Nature reserve, churches and rivers |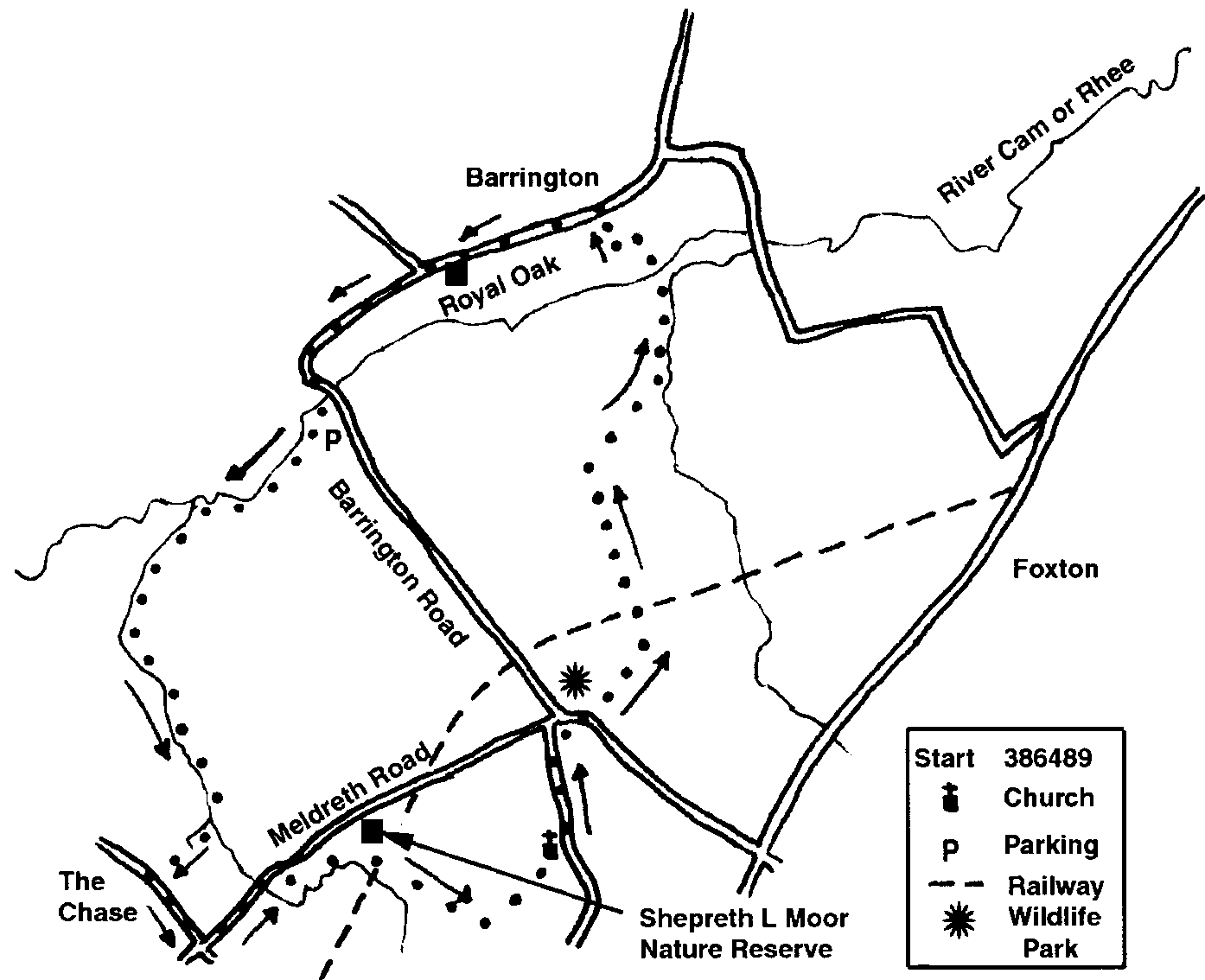 Getting there
Drive to the far western end of the green at Barrington, and leave the green by the Shepreth Road. Just after a narrow bridge turn right at sign Riverside Walk, and park. Explorer 209 GR 386489
Pub(s) The Royal Oak, Barrington


Warning from locals: do not leave valuables visible in your car
The Walk
Not arduous; takes about two hours; generally well made paths, and good signage. Lots of nettles in season, so shorts not advised. Quite isolated.
Leave car park through gate and head through meadow on path, and follow this path as it makes across meadow and then into woodland. After leaving woodland, follow the path round the edge of the field, to emerge on to road, opposite cottage [The Chase]
Turn left, down to cross roads, and turn left again. Stick on right hand side of road, and soon after passing entrance to vets, and village signs, turn right over bridge into Shepreth L Moor Nature Reserve. Keep on path just inside hedge for some distance, pass another entrance but on reaching substantial gate and entrance, turn sharp right, and head for tunnel under the railway to your right.
Through kissing gate head straight ahead through more meadow, to reach gate: through gate and on to path T junction. Turn left, heading towards the church. Go through churchyard [noting three Commonwealth War Graves Commission graves] emerge onto track away from the church and then at road ahead turn left.
Keep on right hand side of road [admire brook alongside­old mill race?], and virtually opposite pub [The Plough] turn right over stile and head diagonally towards two enormous willows, and then for narrow path to left of house just to left of willows.
At road ahead, turn right, over bridge, and then turn left at finger post footpath signs to Barrington and Foxton. Up the lane carry straight on, following sign to Barrington. Cross the level crossing [light controlled], and head straight on path . Walk on till reaching line of power cables and poles, turn right at finger post.
At river, turn left along field edge, and follow field round, cutting off minor corner before crossing river on bridges. Head straight up grassy path ahead to reach Barrington green. [If you wish, you can turn left into curious burial ground at end of hedge on left, turn right in burial ground and emerge onto footpath in top left hand corner, turn right at the end of this little path, and reach Barrington green]
Once on Barrington Green turn left, pass/use The Royal Oak, and continue straight along Shepreth Road, noting windmill incorporated into bungalow, and find Riverside Parking
Neither the author nor his dog accept any responsibility for accuracy or for any injury or mishap that might befall any person who follows this walk. First published by "one man and his dog" in Great Shelford Village News June 2006