| | | |
| --- | --- | --- |
| | | West Wratting, Weston Colville and Weston Green circular |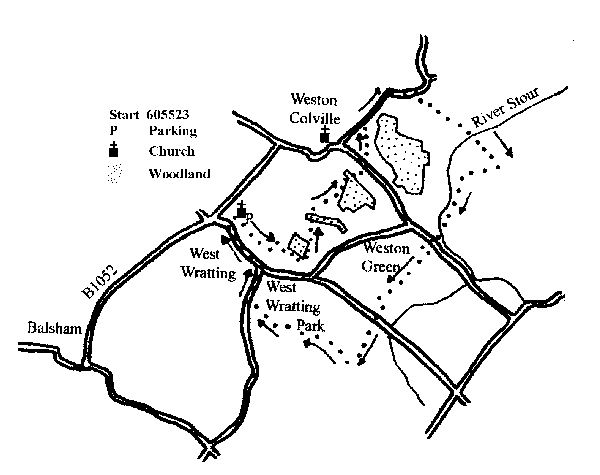 Map Explorer 210 Haverhill and Newmarket. GR 605523

Getting There
Drive towards Linton, then left through Hildersham to Balsham, and take the B1052 to West Wratting. In West Wratting turn right towards Haverhill, and then almost immediately left at the village pump in The Causeway, and park carefully here.

The Walk Uses some newly re-aligned paths in West Wratting, so don't be surprised if all the instructions seem a bit odd on your map. It takes 2 to 2½ hours and is about 9km (5½ miles), with mainly tracks and field edge paths.

Continue down The Causeway, turn right into churchyard, and go up the right hand hedge to go through a gate in the comer. Soon bear right through gateway in hedge and keeping on left-hand edge, head towards farm buildings ahead, towards and through new kissing gates to pass to the left of farm buildings.
Emerge on to track, turn left, and then almost immediately right along field edge path, soon reaching a wood on the left: keep it there, and swing sharp left round wood edge. Straight ahead towards copse across the track, pass through the copse, and go straight on after emerging. At first hedge on right turn right, with hedge on left, and at wood turn left to follow wood edge round to the right, to reach open ground. Proceed to hedge comer ahead on the left. Head along track towards large tree, and the road.
Turn left, pass converted mill, and then turn right off the road at fingerpost. Soon turn left through hedge, and then take right hand track to reach a road. Turn right, and follow road round bend and soon turn right along substantial grassy track. Keep on this track for some distance (at least 1km), swinging sharp right to go down tree lined avenue, with excellent cherries in season.
As you come into the village, cross over stream (nascent River Stour) and bear left along road with cricket field to right. At road turn left, but soon turn right at finger post recently freed of surrounding hedge, up the drive of a house called Alberta. Behind houses turn left and follow this path as it swings right, then over a bridge, sharp left and up past wood to cross open (muddy) field to reach road. (Escape rest of walk by turning right and walking down road in West Wratting).
Cross road and new bridge, take field edge path and then turn right over another new bridge; follow path round a pond to reach gap in hedge, go through the gap and turn right. At track T-junction turn left, and follow track round to the right to view West Wratting Park and House. Follow on with park to right.
Getting near the road ahead, and in sight of farm buildings, turn left off the concrete track to keep hedge and trees to right, and pass to left of large farm building to emerge on to the road. Turn right on the road, and then turn left at road junction dominated by The Chestnut Tree (lunches except Mondays, we hear) and head through village to reach The Causeway.
Neither the author nor his dog accept any responsibility for accuracy or for any injury or mishap that might befall any person who follows this walk. First published by "one man and his dog" in Great Shelford Village News February 2006