| | | |
| --- | --- | --- |
| | | A walk in Huntingdonshire |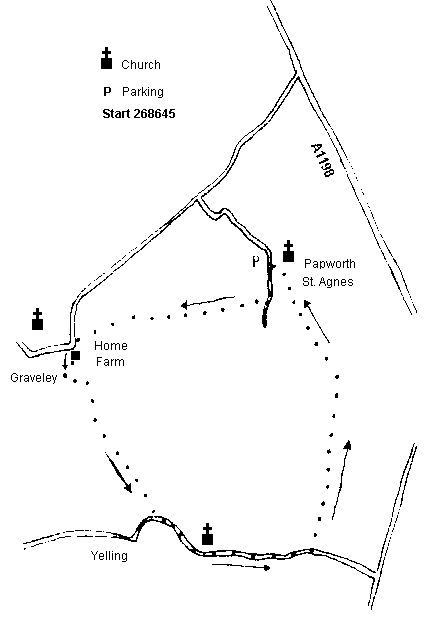 Map
Explorer 225 GR 268645

Getting There Take the A428 towards Bedford, turn right at Caxton Gibbet, up the A1198. Go through Papworth Everard, and after about a mile (shortly after right turn to Hilton) take the left turn to Papworth St Agnes and Eitisley. Another half mile on, turn left again into a No Through Road to Papworth St Agnes. Park carefully near the Old Bakehouse (with tall chimney) in centre of the village. Map and Grid Ref: Explorer 225 GR 268645

The Walk Well signed, and generally good underfoot. Also a bit isolated in places. About 4 miles and will take about 2 hours.

Walk up the road to the right of the Old Bakehouse and shortly after the houses finish on the right, a footpath crosses the road. Turn right over a small bridge into a pasture and head to the hedge opposite (at first hidden by copse/thicket in middle of the field). Cross another small bridge, and head up the hill, pausing to turn round to see the emerging view across the A 14 to the Fens. With village in view, reach T- junction, and bear right to emerge onto road. Turn left and, after 50 yards, left again in front of Home Farm, and follow path signed 'Yelling ¾ mile'. (To reach a pub, keep straight on for about ¼ mile. Pub is on your right on corner of Church Lane. 'No Access to Church' says the sign!)
Follow this well surfaced track as it goes downhill, swings left and then right, to finally emerge on to the road in Yelling. Turn left, and walk along the road for about ½ mile (not a lot of traffic, and footpath on right for part of the way). Continue down into a dip, up past the church, on again down hill, and after crossing a bridge a short way up the hill, turn left along prominent path towards a wood.
Reaching the wood, bear left and follow cinder track. Where this track dives to the right keep left of the wood, emerge into open ground, with cottage to the right. Head straight forward to reach the cinder track again, and turn left along it. Where it turns sharp right keep straight on. and bearing left and then right, enter a woody copse, with flowers and trees all around (in season!). There are good views all along this ridge.
Emerge into another pasture through stout, new metal kissing gate. Head down hill, and towards the church tower, with old rectory to the right. Leave pasture by another kissing gate just by the church (now deconsecrated, apparently) and turn left on the road, to see the Old Bakehouse right ahead.
Neither the author nor his dog accept any responsibility for accuracy or for any injury or mishap that might befall any person who follows this walk. First published by "one man and his dog" in Great Shelford Village News October 2005