| | | |
| --- | --- | --- |
| | | A fovourite stroll near Elmdon |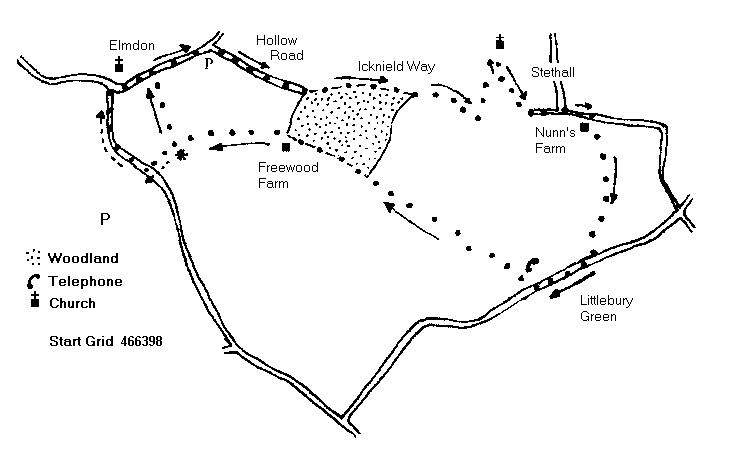 This walk is not arduous. It takes between two and two and a half hours on generally well made paths, although some may be a bit churned up by horses in parts during winter. Lots to see.

Park on verge immediately after entering Elmdon 30 mph zone from Ickleton direction, or in Hollow Road, first road on left. (Elmdon is just south of Ickleton). Map Reference GR 478398 Explorer 194.

The Walk


Set off down Hollow Road and, at end of tarmac road, bear left along edge of wood (marked Icknield Way). Wonderful views from here of Cambridge, Barrington, Wimpole.

Keep straight on at first waymark post with crossing left and right, and enter wood, with twists and turns to left and right. At next finger post, turn sharp left, and go down hill, bearing right at the bottom, with view of church as you emerge from the wood. Go on across field to meet track. Turn left to divert to Stethall Church (Cll); a small tranquil place which is good for an early coffee stop. Turn round from church, and head back up the hill, emerging onto a track at the top.

Turn left, and go along the track (then road) for about 600 yards, and just after Nunn's Farm, turn right. Head off level and then down hill, across small tracks in valley bottom, and straight up the rise in front of you, on good track between trees.

Reach road in Littlebury Green, and turn right. Pass green 'tin tabernacle' and virtually opposite telephone box, turn right down wide track. Keep going straight along this track, guided by power lines at any twist or turn. Track then has wood to right, and open fields to left.

Reach Freewood Farm, with herd of Jersey cows, and continue forward along farm road, soon with superb view ofElmdon Church. (See Note below) After about 500 yards, after copse with moat in it on the left, turn right, with hedge on left. Head down hill, and emerge on to main road, and turn right, to walk along road to find car.

Note: At this point (marked * on map) you can continue on the track turn right on reaching the road, and right again on reaching the church. This variation takes you through the heart of the village. There is now no pub.
Neither the author nor his dog accept any responsibility for accuracy or for any injury or mishap that might befall any person who follows this walk. First published by "one man and his dog" in Great Shelford Village News August 2005