| | | |
| --- | --- | --- |
| | | Blubells, The Gransdens, and more |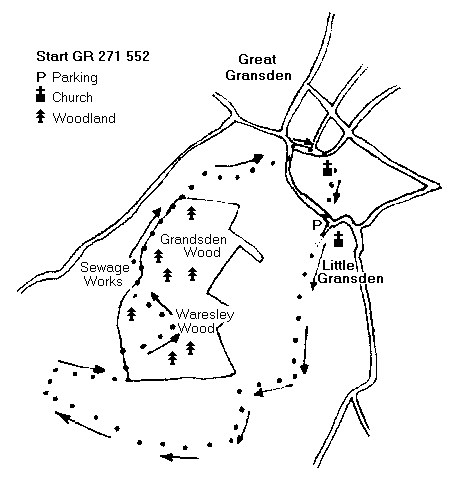 A short walk. (about 3 or 4 miles) for late April and early May in particular, with a stunning display of bluebells in the Waresley and Gransden Woods.

Pub(s) The Crown and Cushion, Great Gransden


Getting There Take the B1046 out through Comberton, beyond Bourn, across the Al 198 (old A14) and into Little Gransden. Park carefully in Church Lane, alongside Little Gransden Church (about a quarter of a mile beyond The Chequers, also on the left hand side). Map Explorer 208, GR 271552.

The Walk It can be a bit wet and rough in places, but generally good underfoot. Signage variable! Continue up Church Lane, ignoring footpath signs first to the left and then to the right. After about half a mile, where path goes straight ahead by a dog leg, turn sharp right. At T junction turn sharp left with ditch to the right, and continue on this well made path as it bends round to the right, giving a distant view ofWaresley Church spire straight ahead.
Continue on this path, with chicken-houses and pens to right and left, until footpath sign points right down an avenue of trees, with house and garden to the left, and chicken pens to the right. At end of avenue, turn sharp right and make to comer of wood ahead. At comer, turn sharp left and after about 200 yards, enter wood through memorial gate on right. Go through the wood along the path until you reach a wooden shelter; here turn sharp left to enter broad diagonal track.
Follow this path through to the edge of the wood, with an increasing number of bluebells. On reaching the edge of the wood, turn right, and pass the sewage works. Follow the path along the wood edge, but stand by to turn right through the hedge where the path starts to fall away to the left. Through the hedge, bear left, with good view of windmill. Great Gransden Church, and large gardens, and follow the path to emerge onto a road.
Turn left, and at first junction turn right (pub to left!), go straight on at mini-roundabout, and soon enter churchyard on right (Church has excellent RAF memorial windows). Path through the churchyard into dip, up hill through graveyard extension, and then onto road. Turn left, and soon Church Lane appears on the right, with impressive 'almshouses' on the right.
Neither the author nor his dog accept any responsibility for accuracy or for any injury or mishap that might befall any person who follows this walk. First published by "one man and his dog" in Great Shelford Village News April 2005