| | | |
| --- | --- | --- |
| | | Parkland, woodland, a church and a churchyard |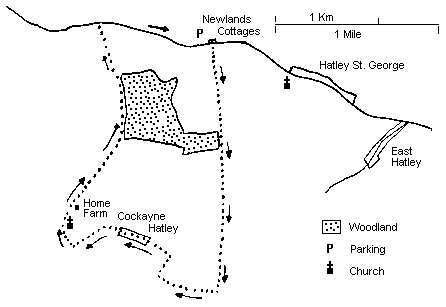 This walk is about five miles along well marked paths, with good views across the Cambridgeshire / Bedfordshire borders. It can include a visit to the parish church at Cockayne Hatley, listed in Simon Jenkins book "The thousand best churches in England"
Map Explorer 208
Getting There Drive out along the A603 Sandy road, over the A 1198 and take the first right towards Croydon, Hatley St.George and Gamlingay. Drive through East Hatley and Hatley St.George: soon, the church on the left and then parkland too, and after a left bend in the road, some cottages on the right are followed by some farm buildings. Park carefully on verge here.
Walk back a short distance towards Hatley St.George, and soon a green sign directs you through a five barred gate across pleasant parkland. Follow this very straight path for about one and a half miles, through a stud farm and agricultural land with woodland to the right. Turn right at the first path cross-road, and follow a solid path which bends first right and then left, heading for the clearly visible village of Cockayne Hatley. Either by phoning in advance [01767 631547] or taking a chance on her being at home, contact Mrs Bonfield [the Churchwarden] at 23 Village Road, which you will pass on entering the village, to obtain the key to the church.[You will have to return it too!]
Walk on through the village, and soon after the end of the village, take the footpath to the right towards the church. The churchyard is the resting place of the poet W.E.Henley, who's daughter was the inspiration for Wendy in J.M. Barrie's Peter Pan. There is also a slate memorial to Second World War flyers [and their dog] some of whom were killed in a training flight accident nearby. The church contains an eclectic collection of fittings and furniture gathered from across Europe by a C19th vicar when the church was refurbished.
On leaving the church turn right, with a restored house and extensive farm buildings on your right, follow the path across fields into a wood. The farm in the middle of the wood has noisy but fenced- in dogs. Follow through to the main road; turn right, and follow the main road back towards Hatley St. George, and quite shortly your car.
Neither the author nor his dog accept any responsibility for accuracy or for any injury or mishap that might befall any person who follows this walk. First published by "one man and his dog" in Great Shelford Village News December 2002