| | | |
| --- | --- | --- |
| | | A classic circular walk from Gazeley, taking in three churches |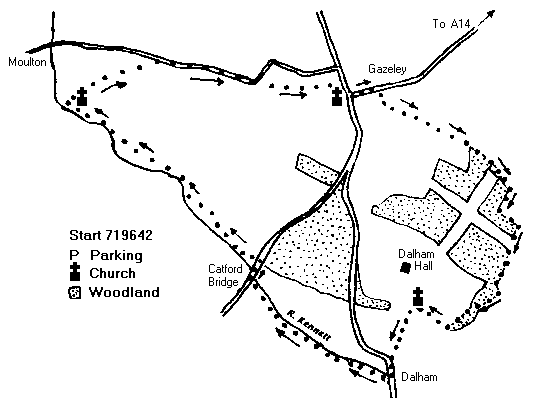 Getting There Take the A 14 to beyond Newmarket,and take exit to Cavenham, Tuddenham and Barrow. Turn right back over the A 14. Immediately you cross over the A14 turn right and then 1st left, signed Higham and Gazeley. Bear right to Gazeley. Park carefully near the church in Gazeley, not blocking entrances.
Pub(s) The Chequers, Gazeley



The Walk is about 5½ miles, and will take about 2½ hours. Good under foot and generally very well signed.

Walk down the village street Higham Road opposite the Church, signed with both an Icknield Way Sign, and a Circular Walk sign. Soon bear right into a housing development, and follow the yellow waymarkers and green signs, between two houses and out into fields. Keep going forward, passing various junctions, cross a bridge and soon bear right into the wood.
The track now winds along the edge of the wood, and generally bear right, looking for the yellow signs, with open fields to the left and woodland to the right.
Eventually emerge on to a tarmac road, and turn right, and when road turns left [To Main Road] keep straight on, with Dalham Church on your right. Soon sign on left points down hill through avenue of trees. [Look back before going down hill to a lovely view of Dalham Hall.]
Emerge on to road, and turn left into village street, passing splendid ancient malt house, and soon turn right over white painted bridge [at this point you can go straight on to pub, and then retrace steps] and follow track, with river on your right. Another road, and turn right, cross bridge, and almost immediately turn left along bridleway, wet in parts.
This bridleway leads to Moulton Church. At the church, turn right with wall on left and church on right [what is the weather vane? A pike?], over stile out of the churchyard, and up hill through another avenue. At the top bear right over stile and cross field, cross another stile and another field towards the road. Look left and you may see Ely Cathedral on a clear day.
Emerge on to quite busy road and turn right. Go along road until double bend, where a right turn by a sign Gazeley Stud brings you quickly to Gazeley church, passing the back of the stud.
Pubs in Gazeley and Moulton as well as Dalham.
Neither the author nor his dog accept any responsibility for accuracy or for any injury or mishap that might befall any person who follows this walk. First published by "one man and his dog" in Great Shelford Village News December 2003