| | | |
| --- | --- | --- |
| | | A walk from Arkesden-a great centre for walking in north west Essex |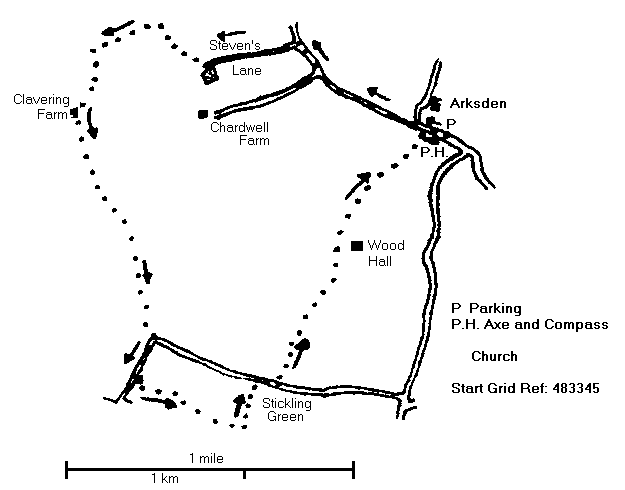 Getting There take the A1301 south out of Great Shelford, down the Sawston by-pass, cross the A505, and at Stump Cross take the B1383 towards Newport. Just beyond Audley House, turn right towards Royston on the B1039, go under the M11, and soon afterwards turn left to Arkesden, as the Royston Road bears right. In the village bear left.
Park carefully opposite the Axe and Compass, not blocking entrances and bridges over the stream.

Pub(s) The Axe and Compasses, Arkesden


The Walk
is about 4 to 4 ½ miles, and will take about 2 hours. Like all paths, these can be muddy!
Walk back towards the junction, but do not take right back past the church, but up the lane straight ahead, towards Duddenhoe End. Soon after a farm entrance to Chardwell Farm, look for tree-lined track to the left [Steven's Lane]. Follow this track up hill , and as it swings to the right at a wood.
Follow up to a T junction, and head left through a hedge labelled with a Public Footpath sign [not up the house drive labelled private!] Follow this track up the rise, and as it drops to a Y junction, where you bear left. Keep going down this track with a stream to your right, and then cross two stiles across paddocks, and then a lawn in front of the farm house. Head for a telegraph pole with two yellow way-markers on it.
At the pole turn left, and follow the drive to the left through the yard with barns/stables to left and right, emerging onto a tarmac road. Follow this road for a good ½ mile, and on reaching a more major road, turn right up a rise, with a windmill [under restoration] on your left. Soon after the mill, a field edge path takes off to the left: follow this until you come to a cross path, turn left down hill, cross a bridge with metal guard rails, and emerge on to Stickling Green through a narrow passage.
Walk to the right in front of Hobbit Cottage, and head right to a black Public Footpath sign on the opposite side of the road about 150 yards away. Walk in front of the cottage and follow waymark signs through a narrow [wet]defile and emerge to a field edge path, with trees to the right. Follow the path round the edge of the trees, cross a plank bridge, and turn left. Continue on this track as it heads up the rise, first with hedge to the left and then to the right. Keep heading on, ahead at a cross path, up and then down the slope, with barn conversions to the right. As the stoney path swings right and left, go straight ahead on field edge path.
This path leads down to Arkesden, and on meeting the road turn right to the Axe and Compass.
Neither the author nor his dog accept any responsibility for accuracy or for any injury or mishap that might befall any person who follows this walk. First published by "one man and his dog" in Great Shelford Village News October 2003