| | | |
| --- | --- | --- |
| | | The Clopton Way, Hatley St.George and nearly to Hailey Wood |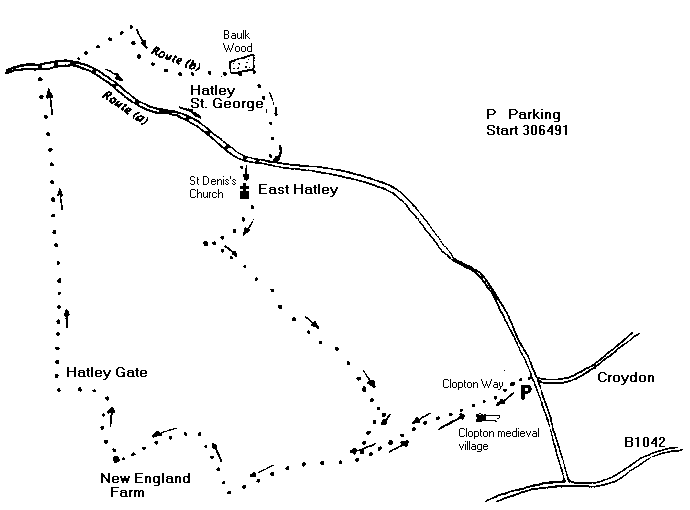 Map Explorer 208 [GR 306491]

Pub(s) The Queen Adelaide, Orpington

Book Cambridgeshire from the Air: Susan Oosthuizen Alan Sutton , Stroud, 1996 pp66 83 87
Getting There take the A603 [Barton Road] , cross the A1198 [old A14] near Wimpole, go straight ahead towards Sandy on the B 1042 . After about a mile turn right Croydon, Hatley and Gamlingay, and in another half mile at right turn to Croydon... there is small parking area on the left: park carefully, not blocking entrances

The Walk
Walk westwards [away from Croydon] along track signed Clopton Way, and after a field or two you come to the village of Clopton, deserted in 1507. Read all about it on good board provided by CCC. Track drops down to well made road, cross this and up slope .
As grassy track enters scrubby bushes, turn right and cross wooden foot bridge, to follow field edge track for about half a mile, straightahead and then sharp left towards farm, crossing another bridge en route.
At farm turn right through yard, and follow path to right of ditch to reach a metal bridge, turn left to cross bridge and climb slope to junction of tracks [Hatley Gate] Turn right and go straight ahead for just over a mile, coming out through parkland of Hatley Hall.
Emerge onto road and turn right: after short distance finger post to left Little Gransden 2 miles should be ignored [a later and longer walk!], but after another 50 yards there is a choice.
a] stick on the road and admire Hatley Hall walking through Hatley St.George [C19th estate village] on narrow pavement after church and join choice b] after a mile,
b] at finger post with no destination, turn left through parkland, and meet tracks at gate. Turn right, with ditch first on right and then on left after sewage farm. At next cross path, turn left and immediately right with ditch on left, pass wood on left, and at next hedge on the right turn right, with hedge on left. [Good sloes in season] Reach road, coming from Hatley St.George.
Whichever route you have taken, turn right at sign to East Hatley, and go down tarmac cul-de-sac ,turning off to admire ancient but currently abandoned church of St.Denis [not many with that name]. Road becomes track, and passes Buff Wood on right. Soon after wood turn left at lone tree on left and barn/hangar on right, keeping hedge to right down good grassy track. Through narrow gate, to broad gap, turn right, and follow round to left up hill with copse/hedge on left, and eventually through copse after derelict farm, bearing right along hedge line.
As you start to go down hill look out for low flying aircraft, and go on down hill ignoring path to right to farm and hangars. At bottom of hill, turn right along stream, until you reach the Clopton Way again Turn sharp left and re-trace track to car, unless you want to go round again.
Neither the author nor his dog accept any responsibility for accuracy or for any injury or mishap that might befall any person who follows this walk. First published by "one man and his dog" in Great Shelford Village News June 2004