| | | |
| --- | --- | --- |
| | | A good round from Linton |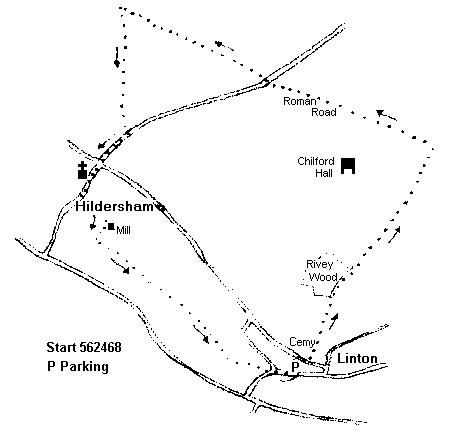 Getting There
Take the A1307 to Linton, turning left into the village Down to the bridge, and after about 300 yards take the second left after the bridge, signed to Social Centre and Health Centre. 50 yards on the nght, turn into Health Centre/Public Car Park, and park in the Public park to the right.
Pub(s) The Crown Inn, Linton


The Walk
Well signed, and generally good underfoot, but some wet spots Also a bit isolated in places. Will take about 3 hours - 6 miles.
Come out of the Car Park, and turn right up hill. At the road, with the cemetery m front of you turn right, and at the end of the cemetery turn left, signposted to Rivey Wood/ Icknield Way. Follow this track at the back of houses, and emerge into open country, with wood on the left.
On reaching the road, continue straight on along the road, ignoring the sign to Chilford Hall to the left. Soon reach major cross path/byway (The Roman Road), and turn left, crossing minor road after about half a mile, and in another half mile turn sharp left at finger post to Hildersham along a grassy field edge track. Another half mile brings you to the minor road: turn right, straight over the next road junction, and down into Hildersham. Cross the delightful metal bridge (diversion possible to the Pear Tree pub 30 yards) and immediately take path to the left, over a stile, and bear left to walk along the river bank, heading for lone house, the old water mill [the windmill is up the hill to your right]. At the old mill turn right along concrete road, with mill race to your left, and just after crossing small bridge turn left off the road along field edge path. Continue along this path all the way back into Linton, with pony paddocks to left and right, sewage farm to the right, and after ignoring road up to the right, emerge through clapper stile at back of the village college on to the Recreation Ground.
Take and follow the path to the right as it goes round the Rec. and emerges into street of cottages, leading back to the main road through the village. Turn left at the Dog and Duck, cross the bridge and make your way back to the car park. Before going back to the car park, you can turn off to the right and explore the area around Linton Church and the mill just beyond - you will not get lost, and it is very pretty.
Neither the author nor his dog accept any responsibility for accuracy or for any injury or mishap that might befall any person who follows this walk. First published by "one man and his dog" in Great Shelford Village News April 2004