| | | |
| --- | --- | --- |
| | | A charming walk from Newport |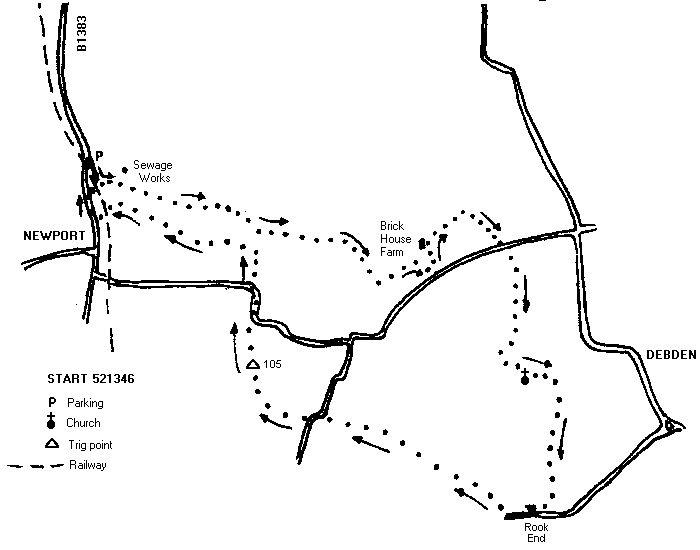 Map [GR 521346] Explorer Map 195
Getting There
Take the A1301 south out of Great Shelford, down the Sawston by- pass, cross the A505, and at Stump Cross take the B1383 towards Newport. On entering Newport, look for sharp left turn Bridge End, just before the railway bridge.
Parking Park carefully on left hand side of Bridge End, outside lovely houses, not blocking entrances.

The Walk is about 5'/2 to 6 miles, and will take about 2/2 to 3 hours. Most of the walk is pretty dry [we hope!]. Walk down Bridge End, and just before railway bridge, turn left along narrow track, and after 15 yards turn sharp left onto concrete road.
Follow this road, and then the track into which it leads, with the sewage works on your left. Keep going along the valley, ignore rum left up hill, and bear slightly right with wood on left. Enter wooded path, and ignore path with footbridge to the right. Emerge onto open field over a dodgy stile, ignore path up hill to left, and head straight forward over grassy path.
Path eventually enters a thicket, which is OK for the short: taller people and those averse to getting prickled can keep right of the thicket, and head for break in the hedge where it meets the thicket path, near a World War II pill box on the opposite side of the stream. Follow path round to the left, through a gate- way, turn sharp right and head for stile to rear of recently restored farmhouse. Over the stile, and into the drive of the house: at the end of the drive turn sharp left uphill towards another farm, and bear right of all buildings and the house, and then look for track off to the right which follows telephone wires.
At T-junction turn right, and follow the track [not the wires] down hill, and cross the busy road to enter woodland. Follow the track down hill, and up through remains of an avenue, and drop down towards a stream on track between pony paddocks. Shortly before reaching the stream turn sharp left, with enormous brick farm buildings on your left, to reach churchyard. Skirt to left of this, or if you wish divert into the churchyard and the church [open every day], and then emerge to meet the skirting path. Walk a short distance up the hill, and then turn sharp right towards walled garden, but then turn sharp left and right around the field, and head for gap in hedge at the bottom labelled Footpath. Through the gap, and turn right along a lovely wooded path, soon to be confronted by two ancient garden seats marked 'Not to be taken away' [they have been there for years]. After a rest, continue through the wood, and on nearly reaching a large barn, turn right and then left over a footbridge. Soon you reach a tarmac road, turn right, and pass a thatched cottage, and then, at another with a flagpole, turn right onto a really excellent Byway, with woodland to your right.
Eventually you reach a road: bear left along it for a short while, and go straight ahead on a Byway as road swings to the left. Quite soon turn right at Footpath label, and head for old style Trig point, from which [unsurprisingly] you get great views. Track continues, to emerge onto a road through a stackyard. Turn left, down hill and walk on this road round some dodgy bends, until you turn right off the road down hill through narrow track hedged on both sides [black finger post almost obscured]
Down hill, and through woodland: immediately after emerging from the woodland, turn sharp left, with wood on the left, and head for track between woods, which soon becomes field edge path. Follow this for some distance, and then turn right into poplar woodland where the track turns left uphill to pass another World War II pillbox. Through the poplars, over a footbridge, under the railway, to bear left through houses to meet the B1383 beside the pub. Turn right, and quite soon, over the little tollbridge and opposite Newport Free Grammar School, turn right into Bridge End.
Neither the author nor his dog accept any responsibility for accuracy or for any injury or mishap that might befall any person who follows this walk. First published by "one man and his dog" in Great Shelford Village News December 2004