| | | |
| --- | --- | --- |
| | | Bartlow, Ashdon and Little Bowsers: A great round |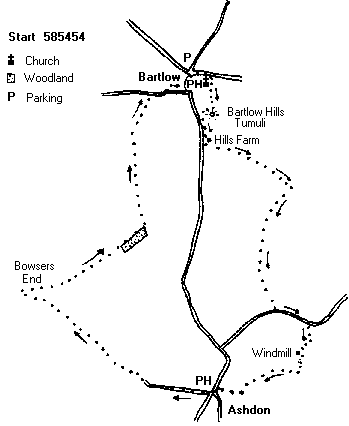 Map Explorer 209

Pub(s) The Three Hills, Bartlow


Book Cambridgeshire from the Air: Susan Oosthuizen Alan Sutton , Stroud, 1996 p 20
Getting There
Take the A1307 [Linton Road] , and shortly after the Linton By pass. Turn right to Bartlow. Parking in Bartlow is a bit of problem, but turn left at first cross roads and park 200+ yards on the left: park carefully, not blocking entrances [GR585454]
The Walk is about 5miles, and will take about 2½ hours. Not good in wet weather, and variably signed

Head to the Church [on your right along the Camps Road], go through the churchyard, and bear to the left of the church, following footpath signs, with Private signs to left and right, and emerge to the Three Hills, the ancient tumuli for which Barton is famous. Climb the steps for a view from the top. Bear right of the "hill" with the steps, and emerge onto a drive.
Down the drive almost to the road, but then turn sharp left through the wood until you emerge onto a farm drive, with signs to Hills Farm and Vetstream: follow round to the left in front of the farm buildings, with round water tower to your right. Out onto farm track and turn left. Straight on for some distance, and at T junction turn right on grassy track/field edge; follow this to cross paths, and go ahead on gravel path, down avenue of tress, passing splendid country house on the left.
Emerge onto road, and turn left up road, passing cottages, and on reaching wood on the right turn right up field edge, round to right, then left and emerge into car park. From car park bear left and right ,passing Ashdon Windmill and its mill cottages, and keeping right of the cottages, head to the right of the hedge in front of you. At first hedge boundary, turn right down hill into Ashdon, coming out onto main road in front of the pub. Turn left, and then almost immediately right up hill, eventually passing a spinney on the left: at spinney end climb stile to the left and head diagonally to stile at bottom, turn left with wood and stream to the right.
Emerge onto concrete track, and go straight ahead for some distance, then turn right at cross path near houses and farm. Straight ahead again, and at T junction just by plantation turn left, and bear right at minor junction, shortly meeting main road. Turn right, and walk on road back towards Bartlow, taking great care when road goes under railway bridge. At next junction, turn left, and pass[?] The Three Hills pub into the village.
Neither the author nor his dog accept any responsibility for accuracy or for any injury or mishap that might befall any person who follows this walk. First published by "one man and his dog" in Great Shelford Village News August 2004